Hello once again! Welcome back to our blog section!
This week we have another extraordinary topic to talk about: Market Segmentation!
In the next lines I will take you through Professor Dunbar's teaching in Advanced Market Segmentation which I personally find very interesting and enjoyable. I am pretty sure this will help you to conduct your market segmentation in the best possible way!
Have you ever asked yourself these four simple question?
Why is segmentation so important?

What are the best strategies to do it accurately?
How do you link it to your strategy?
What should you get out of it?
That is exactly what we will learn in this new section!
Dunbar's way of expressing those simple marketing concepts (that often are taken for granted) can be a very good help to all of you, my friends to get that market segmentation right once and for all!

LET'S GO THEN!!!
With the explosion of Social Media, most marketers are under the impression they can take and make any Market Segmentation as a valuable tool (age, gender, dresscode, etc... ) forgetting they are a secondary aspect of always a primary one, which is the interest a person has got on a specific topic.

The diagram you see below contains some building blocks that are a MUST
for a successful marketing.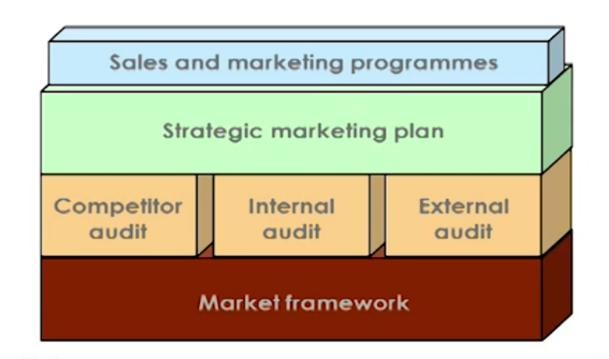 At the top we can see what the customers perceive as outputs of the sales and marketing programmes:
products;

services;

the channels that we use;

advertising;

promotion;


customer services.
These items above reflect how we are assessed on the market. If we have done things properly, we can then move on to the next step which is designing a strategic marketing plan. The plan should contain objectives and strategies to achieve certain values and volumes that we set as a target for the identified market segments.
Next is the audit of both internal and external environment that affect the market we are in. This should include an assessment of the strengths and weaknesses of our competitors, which are right at the top of the framework and provide a detailed overview of market structure and segmentation. But be careful! If this framework is unsound, the entire structure will be very unstable and objectives will be harder to achieve!!!
So, how do we segment the market properly?
Many different approaches have been used when it comes to proper market segmentation.
Some of the most popular criteria are :
demographics;


geography;

size of customers;

industry.
But first of all: do you actually know what Market Segmentation is?
In a few words... Market Segmentation is the way customers split into different groups! Simple, uh?
The split is based on a similar level of interest in the same or comparable set of needs satisfied by a distinct marketing proposition at a price perceived as providing superior value for money. This doesn't necessarily mean that customers do not actually look for the lowest price!
Let's see then these 4 criteria one by one!
Demographic: People used to say that when you reach 30 years of age you change all of a sudden. You change your wardrobe, and you do not do the things you used to do 10 years before. Luckily or unluckily the world doesn't operate like this anymore today! Stereotypes with age groups are dead! People now do things that maybe they shouldn't be doing anymore once they reach a certain age, but the world has changed! Demographic can though be used to help us identify what customers may be like within a particular segment. It shouldn't lead our segmentation , but can help!
Geography: Let's talk about postcodes! Well, we do not drive the same cars, or wear the same clothes or have the same gardens. We do not go out in the same places just because we have the same postcode! However, post codes can be a good help to identify where segments may be found, as a supporting item to segmentation.
Size: it doen't really make the difference on the product or service a customer wants to buy. It's a supporting role, not a leading role! Still...it helps our segmentation!
Industry: SIC code which stands for Standard Industrial Classification. All the companies buy products and services in the exact same way! But once again, Industry can help segmentation without leading it!
What we really need to think about is: how do my customers segment?
Well, let's take a closer look to the real needs of our customers because it is in those needs that lie the heart of their market segmentation process! It is only by satisfying what they need, that we can win their loyalty, particularly if it is done at a very interesting price :)
What are the steps to make a segmentation that really works?
First of all, we need to DEFINE our market, DESIGN a product specification and IDENTIFY decision makers. Next is to UNDERSTAND their purchase behavior, what our customers are telling us about themselves...do we know that? See their needs, motivations, and drivers behind their behavior so we will spot where that particular segment is going to be!
What are the key features they use to differentiate themselves from the others?
Once we have identified the market we select a segment and serve it directly by adapting products and services to our customers' specific needs.
On top of that, there are segments we would love to target and segments that are not so attractive so LEARN TO CHOOSE carefully between them :)
What follows next is a little checklist that can help us to see if the segment we chose is actually a REAL segment!
How do we pick our customers?
Which is the segment we should be choosing?
1. Volume Value: is each segment big enough to justify the expense of developing a specific proposition for it and taking this into the market?
2. Differentiation: is the proposition required by each segment sufficiently different from that required by other segments?
3. Reachability: is each segment reachable through usable distribution channels and for communication purpose?
4. Compatibility: can the company adapt its structure, information, and decision-making system to serve each segment effectively?
We need to analyze what makes the segment so attractive to us based on some criteria relevant to what the organization is trying to achieve.
segment size and growth;

profitability;

vulnerability;

cyclicality;


competitive Intensity.
After choosing our segments we need to establish our company''s competitiveness in each segment based on how the segment perceives our ability to satisfy our purchasers' needs which relates to the competition.
Now, how do we link all this to our strategy?
Well, strategy is all about determining value proposition doing prediction on what we expect to find in our marketplace.
Do we know where we want to spend your resources? If the answer is YES then it's about time to focus on those we are actually good at and forget about the others!
To help us in this process we have created these general guidelines in the picture below: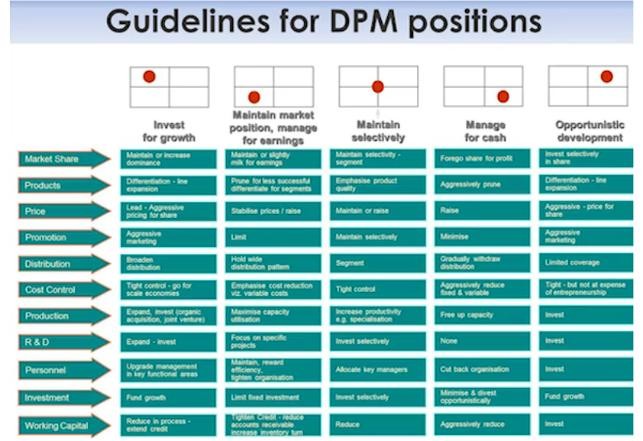 After selecting segments we can use the need analysis and relative competitiveness to identify effective marketing strategies for each segment. Segments basically tell us where we can improve our performance!
As you can see, some of the decisive buying criteria like product, image, service, and price are taken into account and by comparing our scores with the ones of the competition we can actually improve our performance in doing business with particular segments!
Last but not least: what should we get out of all this?
Well, it's entirely UP TO US, and it down to our work and our position in the marketplace!
As a conclusion, dear all, we can now see that segmentation has a CRUCIAL importance and the greatest gains from a segmentation process appear when this is conducted as an integral part of a strategy building project.
...and remember: if we want to do segmentation, make sure we do it well, as Professor Dunbar says, as it can give an awful lot to our business!