https://www.oxfordlearninglab.com/blog/1301023/web...Hello Everybody and welcome back to our blog section!
What we are going to see in the next article is the basics you need to know about Web Copywriting.
Here follow a few tips to write blog pages, websites, article and almost everything you want to publish online so that your viewers will:
1) find straight away what they are looking for
2) enjoy what they are reading
3) come back to you and take action.
O
ne of the major problems companies are a facing today is that they seem to struggle too much when it comes to putting some words together on their websites...as it often happens, those things we take for granted are always the real problem!
People have been promoting goods and services since marketing was invented. Ever since, the starting point has been understanding the marketing environment. Within the years those who understood the right formula became very good at it. Lucky enough somebody passed that precious information to us...and since we like you much, we have decided to share it with you!
There is a huge amount of skills and knowledge that has been developed by copywriters. Sometimes what happens to most of us is that we learn and soon forget... So this time, make sure you take notes and apply straight away what we are going to show you on this page!
How do you put your words together to be effective?
At the very beginning of the web copyright history, the choice of the words was not considered that important. The focus was mainly on what the whole page looked like. It is good to have a nice page full of picture and glamorous headings... t
hey make it look so nice but too much confusion does not really work! It may work very well on paper but not on our laptops, PCs, tablets and smartphones. On devices, it creates a lot of confusion. Writing for a screen is not like writing for a newspaper or a magazine. There some important differences between the two you need to understand.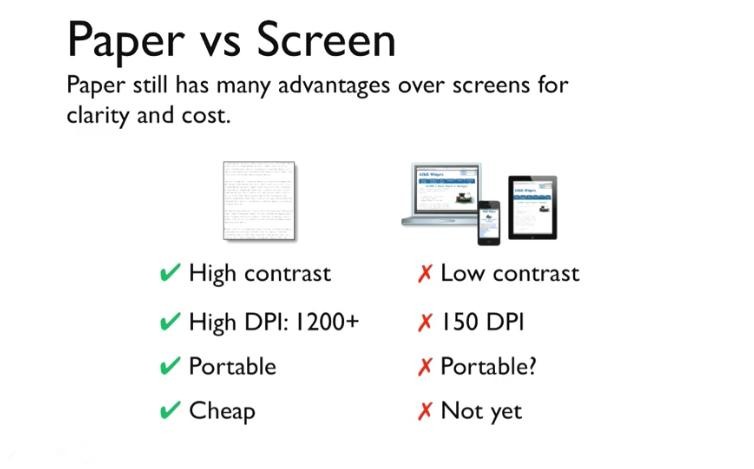 Your company has a message and you are trying to reach your potential customers as well as your stakeholders. You need to understand HOW to express yourself and the difference between the different platforms available. The way you are going to write a 145 words post for Twitter is not exactly the same way you'll be writing a blog post...which is usually much longer. Moreover, most posts are written really badly. Viewers find them not particularly enjoyable or acceptable...and once again, some of those pages look interesting on paper but not on the web!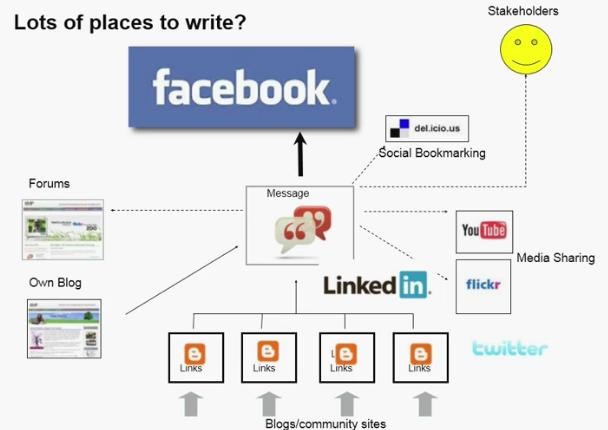 The first thing you need to comprehend is that your visitors are not going to read very much. They usually get bored very quickly. They scan-read pages. We strongly advise you to place the significant parts of your article where people look when they are online.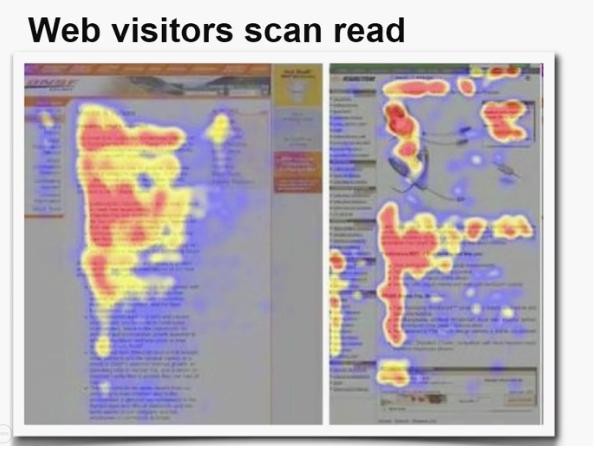 The eyes flick around the page in the shape of an F moving back and forward and they do not read all is there. On top of that, remember that you are not only writing for humans! You are writing for software too! Google will send their Spiders to your web page and they will try to perceive what you are writing! What they find will determine where you appear on the search page. If you do this properly, more websites will be linking to your site .Consequently, more traffic will be generated bringing more people to your page. This could be a great chance of getting a lot of new customers!
Are you clear about what you want to achieve? Are your business goals clear enough? Try to balance what you want with what your customers want! Aims and goals must be the same. You may have some very good products or services to sell but to do that you need to:
EDUCATE your viewers on what you are selling;

ENTERTAIN them with your sense of humour or with your amusing material;

INFORM them on how to choose your products or services.
Most of the times this is done in a very dull and flat way and the information given is very poor. If you have been working with your product for quite some time, check what you have done in past. This important operation is called CONTENT AUDIT and it is done through SWOT Analysis. Look at what you have produced in the as there may be things you want to keep.
Once the audit is produced it is important to seek some external input. The following slide indicates the type of testing we suggest you to do.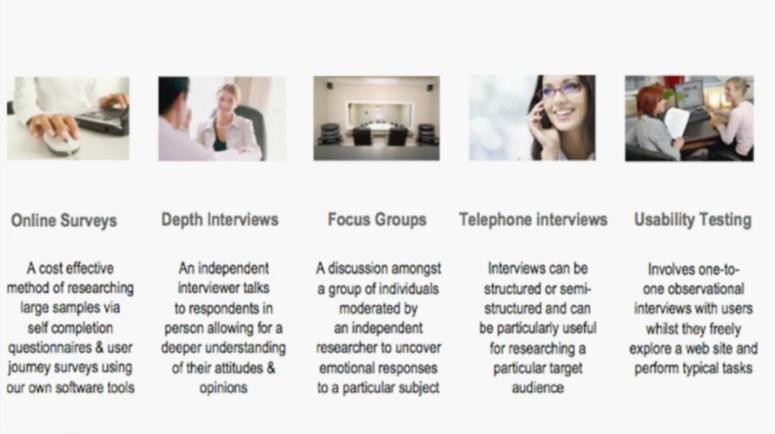 One of the most important tools you can use is Analytics.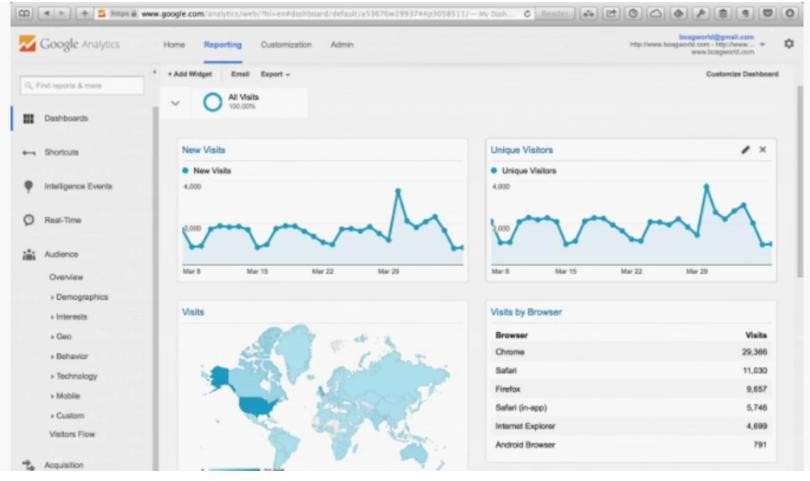 Through Analytics you can, for example, see how long people are watching a specific page of your site.
You may want to work out why people spend so long on it. It could be because of an interesting video, or some pictures, or an article... these might give you some clues on what your page should look like. On the other hand, Analytics can also tell you which web pages people leave quickly...so why don't you use them and see how helpful they can be?
One of the first to recognise how people read the web is Jacob Nielsen. He has been working in software development and software usability for a long time. He has been researching for the last twenty years how people read on the web. One of the most important things he suggests is to think about your readers when you build your page!
Because people are impatient to read, he recommends simplifying your language. Your material will be easy to digest and to understand.
On top of that, you may also:

Create a PDF of your content if you want to get more into details;

Cut down on sales speech;

Cut down the corporate speech as people do not promptly respond to a hight text;

Use a one-to-one approach to be closer to your readers.

Nielsen also claims that if you are writing for the web, you should be using 50% less copy you would use on paper. So try to edit it down, but make sure you do it in a way that it still makes sense!
There is this idea going around the web where we talk about above and below the fold.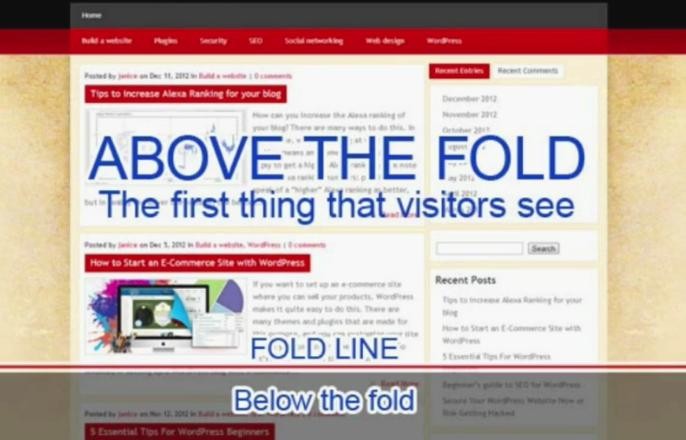 Everything viewers see is in the first screenshot, so your powerful material MUST be above the fold line!
The fold can appear differently on a tablet compared to a smartphone. Make sure that the key concepts are always on the top. No matter what device they will appear on, they will be seen straight away!
When you write for the web use the Inverted Pyramid Style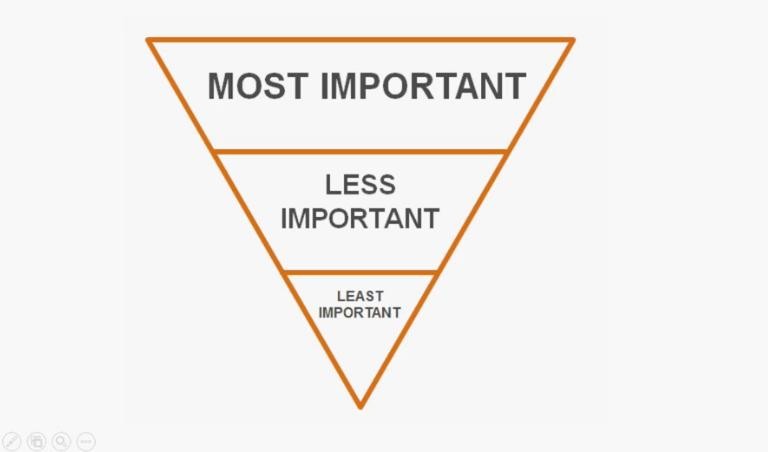 Put your conclusion right at the top so that the prime information is presented right away.
Another crucial part is the FIRST SENTENCE you use opening your article or page. The sentence has to be very powerful and get to the point very soon!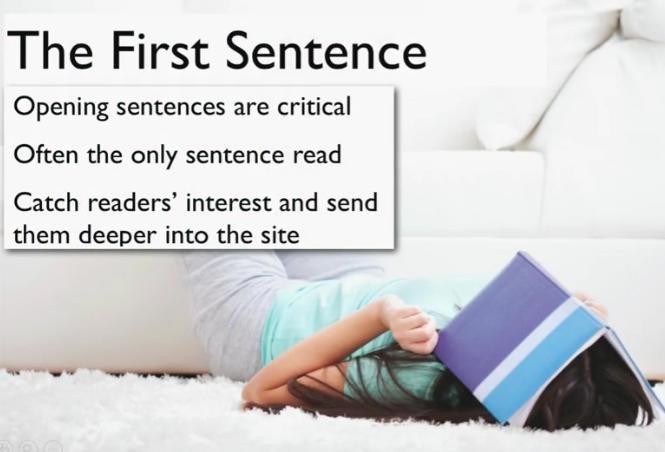 Other important tips are:
One idea per paragraph: try to keep each paragraph to one idea;

Start with your conclusion as many may not read any further;

Put secondary information on linked sub-pages;

Simple introduction makes the page more engaging;


Use white spaces. You can make pages very cluttered with too much for the eyes to take in!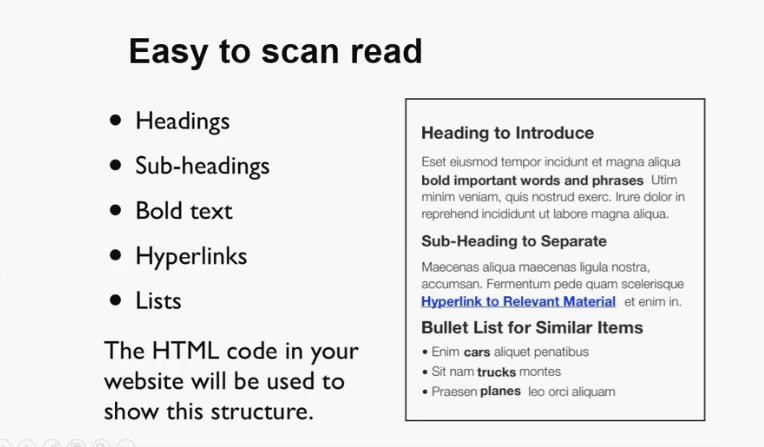 Headlines are also very important! Just think about all the questions your visitors may have about what you sell..- A lot! Well, you can easily turn those questions into HEADLINES and SUBHEADINGS and write what they want to read!
A good headlines should also tell what the page is about and, believe me, most don't! Make sure that both your headlines and subheadings are clear and explain briefly what your visitors will read a few lines below.
Create interest;

Give an overview;

Set the content for each section;

Make sure of what follows;

Improve readability.

Most web pages highlights words like OUR or US and your readers don't really care about you, they care about themselves!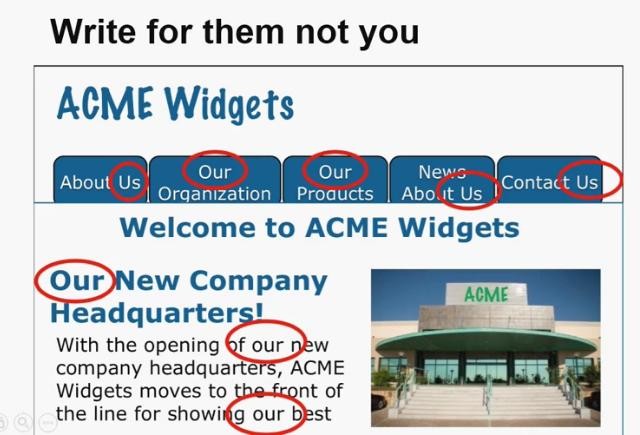 Talk about them! Use something like "news about what you can use" instead of "news about us". Put the reader in charge! Talk less about you and more about them!
Sometimes we find images that don't add any value to what we are reading. At the same time theydo not give any extra explanation about the page. Bare in mind that human sights first catch images and that visitors look at them. If you are going to add images to your text, make sure that those images add value to the meaning of what you are writing.
When you are writing you should also show your character (can you see mine? :) ). Try to put some of your personality in what you are producing. Write in a way that is normal and useful. Use apply buttons to call to attention. Visitors coming in will find easily what they are looking for and what they need.
Be aware that when you sell your products or services, customers can be very critical with all that is too "over the top" i.e. when you are too promotional. Try to argue against self-interest which means addressing some of those concerns people have. Do not hide those problems, address them so that visitors will not be scared but reassured. If they do not find any answer they will go away and find the information they need elsewhere. In other words, when you write your copy, and you spot a key problem people are concern about, address it straight away. Do not ignore it or you may lose potential customers!
Now, let's see what other tips we can give you...
LINKS, LINKS, LINKS! Use links in your text! And use them in the most clever way! When we turn a text into a link, we usually underline more words, which is, by the way, the right thing to do. You should turn your links into something interesting to read. They should be something readers find useful and more meaningful. Viewers usually look for links on web page. If I could suggest some numbers, I would say, underline 7 to 12 useful words and turn them into a link. The more visible your link is, the higher are the chances to click on it! It is obvious (but not for everybody!) that a link should talk about what is inside the link itself, therefore make sure you are choosing the right words to use! Try to move away from the classic and dull "click here" or "see more" thing.
We have just seen, a few lines above, that people scan- read the text. If what you write is interesting, then they will read it if it is not, they will not. We often write pages and sprinkle link through it. Lets' be honest, it is something we all hate seeing! If we find a page with one million underlined blue words we just get confused and leave. Isn't it much better to write a nice simple page with all we need to tell with 7 to 12 blue words at the end of it? Isn't it much better to have links in a separate section of their own?
What colours would you choose for your text and for your background?... Some of our readers might be colour blinded so be careful when choosing colours!

Your fonts should also be chosen carefully. Luckily the selection is limited enough to avoid picking those which are far too glamorous and funky to read! Fonts MUST be easy to read.
Do not write in caps because that means YOU ARE SHOUTING and I am not deaf! Try to use them only for vital short messages!
Eventually, you will have to review your text. Here follow some other important tips you may find valuable:
Review as you edit your work;

Use readability tools (plenty available on the net) in your word processor;

Ask your colleagues to review your text for you to spot those mistakes (if any) you cannot see;

Establish a formal review system;

Do not split infinitive (as teachers use to say);

Do not end your sentence with a preposition;

Do not start your sentences with "And" or"But"

Make sure your copy is human and easy to read.

Since there is still a very poor web copywriting these days, Twitter has produced a very clever guide on how to get the best out of your site. The way their page is displayed is also very good. Everything is where it should be. There are headings and subheadings, bold characters, white spaces, numbers... and it all looks very clear.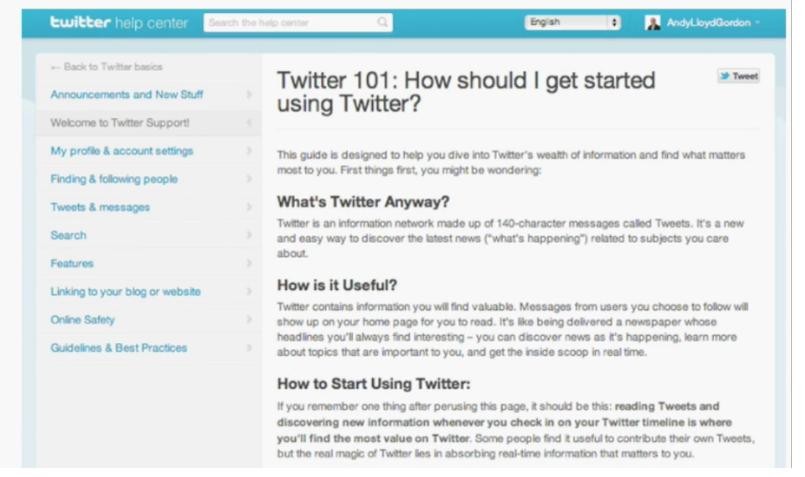 My dearest readers, that's it for today! I hope we have given you some useful and interesting tips to built your web pages! Stay with us for more fresh material on digital marketing. Do not forget to check those links at the top of the page for some more handy tips!
Till then, enjoy yourself experimenting with what you have just learnt! Bye Bye