Here's a guide to the essentials as you create your marketing plan for 2019.
Effective Marketing Planning pulls together marketing thought, understanding and practice into two distinctive plans. As you work through this blog, you might find you have some gaps in your marketing knowledge; I have suggested other blogs to read to help you fill those gaps.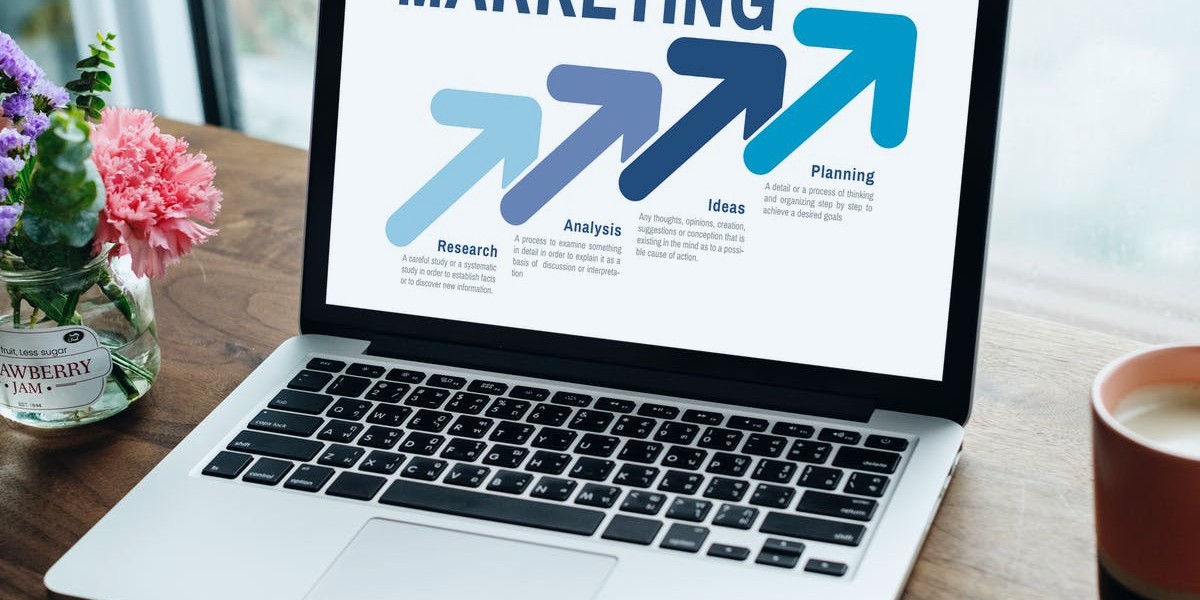 Need a helping hand with your marketing strategy efforts? Or maybe you just want proven, actionable marketing tools, tactics, and templates to implement in your business? Check our Marketing Strategy for Business Course Bundle from Oxford Learning Lab, and you will be on your way to helping your business grow.

Your marketing plan comes in two parts:
1) The Strategic Marketing Plan which sets out the direction that the company is moving in to achieve its goals and
2) The Tactical Marketing Plan which tells us what marketing activities need to be done to achieve the goals.
Let's look at what goes into each part.
Part 1. Strategic Marketing Plan
Mission: this clearly states your company's reason for existing, its purpose. It answers the question: Why are you doing this?
For further advice on creating a true mission statement, read my short blog, "Three Steps to creating a powerful mission statement" and watch Simon Sinek's TED talk, Start with Why
How: this is one line that explains your company's overall strategy for achieving its mission. It starts to sets parameters around the market place you operate in and the market segments your company wishes to work with.
Positioning: clearly state how you want people to regard your business. Read this blog for the five questions I ask my clients when helping them determine their company's position.
Business Objectives: Take these from your Business Plan. These are the overall objectives that your company wants to meet over the next 12 months. They are normally couched in terms of turnover and profit.
Strategic Marketing Objectives: These are the goals that your marketing has to achieve to make your Business Objectives a reality. Go to the worked example below for some ideas.
Detailed Objectives: Take each Strategic Marketing Objective and break down how you are going to achieve it. Typically, this should be expressed in terms of how much you need to sell of your different products / services to each of your customer segments
I've pulled all of this together in an example from a fictional Creative Agency Firm.
Mission: To help people communicate clearly and effectively.
How: By working with larger SMEs who enrich their community and countries through operating in a sustainable, ethical manner.
Positioning: we are regarded as creative, clear, collaborative not "tell" communicators.
Business Objectives: To increase annual turnover by 5% to £750,000.
Strategic Marketing Objectives:
To keep 80 out of 82 existing clients on retainers which generate £320,000 p.a. (£4k p.a. per retainer)
To work with 15 new clients on large multi-phase projects worth £15,000 each, total of £225,000 p.a.
To convert 6 current multi-phase project clients to annual retainer, generating £24,000 p.a.
To work with 20 new clients on smaller projects worth £7,500 each, total of £150,000 p.a.
To increase customers of online only packages (£2,000 per package) from 10 to 16, generating £32,000.
Detailed Objectives: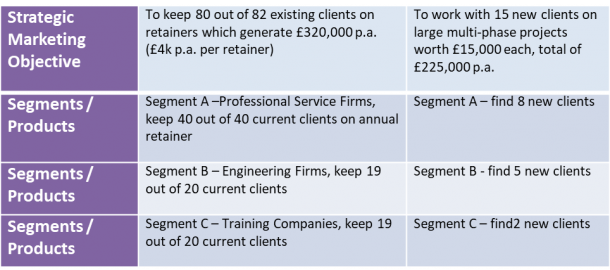 The Tactical part of your Marketing Plan clearly states the detail about what you are going to do to achieve your detailed objectives.
For your Tactical Marketing Plan to be effective, you need to have a good understanding of each of your segments. You should have an avatar or customer profile for each of them.
Part 2. Tactical Marketing Plan
Your Tactical Marketing Plan lays out all the marketing activities your company needs to undertake to help the people in each of your focus segments through the Buying Journey.
With your Tactical Marketing Plan, you need to achieve a regular baseline of marketing activity throughout the whole customer journey. You should have the detail about each tactical activity at each stage in one plan.
Let's go back to our worked example.
I've taken one of our segments and created a basic Marketing Activity Plan, with tactical marketing activities mapped out against each stage of the Buyer's Journey.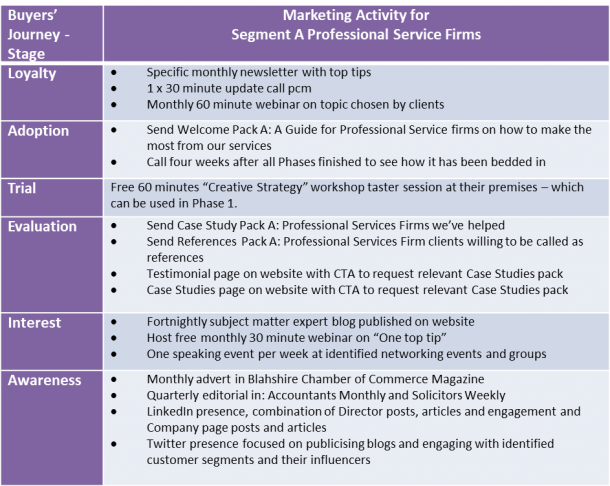 Marketing Resource
Once you have this detail laid out, you can then add in another column: resource.
For each activity identify how much money and time you need to spend on it per day or per week or per month (whichever period of time is relevant to your business).
An abbreviated version of our example looks like this: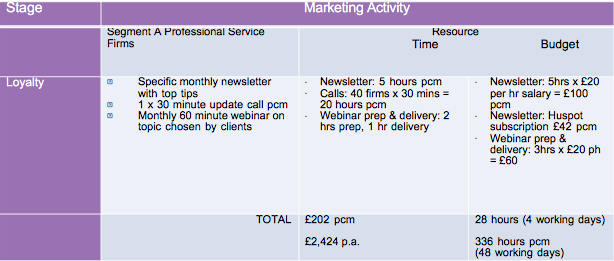 Finally, you can then transfer this to a calendar, which can be stuck on a wall:

Next steps: measurements and metrics
Once you have your plan in place, then you need to put measurements in place. This is a huge topic and I'll cover it later but at a basic level you need to have:
outcome measurements – show you, at regular intervals, if your company is moving towards its Business Objectives e.g. monthly turnover and profit figures to see if you're on track for your annual goal and Strategic Marketing goals e.g.Segment A, 4 new clients found in first six months of the year (need 8 per year)
activity measurements – allow you to monitor all the marketing actions that need to take place to make your business's goals reality e.g. 35 out of 40 updates calls made in March so we're not on track.
Conclusion:
Setting an effective Marketing Plan that will deliver results takes time. You will need to research. To pull together figures. To really nail down what you want, what you can do, and what you need to do.
Is it worth the effort? If you want your marketing to be focused, to know what you have to do to achieve the results you want then yes. It is worth it.