A billion monthly active users logging into the platform. With numbers like that, it's essential that marketers consider Instagram as a channel in the core marketing mix, regardless of industry.
However, it's vital that businesses leverage this growing channel in the right way. In our guide, you'll find all the elements needed to create a successful Instagram marketing strategy for your business, from setting up a business account and exploring the tools available to harnessing the power of hashtags and influencers to take your brand to the next level.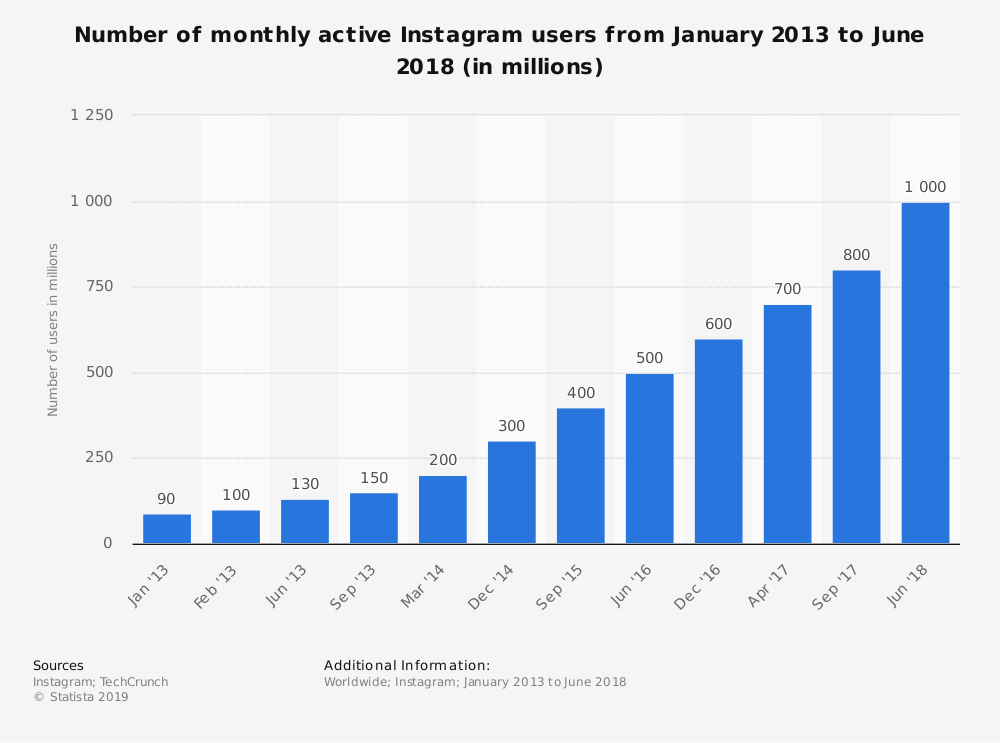 Contents:
Setting Business Goals For Instagram
Master Metrics For Your Instagram Strategy
Creating A Brand On Instagram
Test And Optimise For Instagram Success
The Anatomy of a Great Instagram Profile
How To Grow Your Instagram Following
How to Use Instagram Stories In Your Strategy
Making The Most of Instagram Business Tools
-----------------------------------------------------------------------
Setting Business Goals For Instagram
Before you even set up an Instagram Business account (if you haven't already), it's essential to first, align your business goals with what you hope to achieve from Instagram.
Ask yourself, what is the purpose of Instagram for your business?
Which of your business goals can it help you to work towards, and in turn what channel specific goals can be set to keep it on track?
Consider some of the following points when setting your goals:
What unique benefits does Instagram offer as a channel? For example, providing a visual representation of your brand, or access to influencers that can tap into relevant new audiences.
How much of your target audience is active on Instagram, and what do they engage with on the
channel? This could be accounts, hashtags, topics, content formats, etc.
How will Instagram support other channels in your broader social media strategy, and your overall
marketing strategy?
Once you have a set of Instagram goals that align with your overall business goals, you can start to look at how you will achieve these goals through a solid strategy and what metrics you'll use to measure your progress.
--------------------------------------------------------------------
Master Metrics For Your Instagram Strategy
The second most important step in creating a successful Instagram strategy is having a strong
set of metrics to benchmark your activity against. These metrics will be based on the goals you
have set for the channel and will help to shape the strategy.In 2016, Instagram added their own Insights tool to the channel, which was a turning point for the way marketers can now measure the success of their Instagram strategy. However, don't stop there; third-party software like Hootsuite, Iconosquare and more can be used to expand on the built-in analytics available within Instagram.
Whereas Instagram Insights limit data for metrics like follower growth and reach to the last seven days, external tools can be used to measure these over time and allow you to spot trends without having to record the data each week manually.
Data-backed decision making
The reason metrics are so important is that gathering data helps to back-up decisions made as part of the strategy. Rather than a finger to the air, guesswork approach to what works, gathering data on how your campaigns are impacting your key metrics will help you to decide what to do more or less of to keep your channel's success growing.
Some key metrics that successful brands use for Instagram are:
Follower growth rate
The success of custom hashtags (engagement rate, impressions generated, etc.)
Audience engagement (likes, comments, shares, replies to stories, etc.)
Impressions and reach (on posts and stories)
The brand sentiment (number of positive/negative brand mentions and engagements)
--------------------------------------------------------------------
Creating A Brand On Instagram
The way you portray yourself on Instagram will have an impact on your overall success on the channel, and in some cases, your standard 'brand' may need to be tweaked to fit the channel.
While you may have an overall brand template, which we aren't suggesting you completely divert from; it's also worth considering the accounts and types of content that people engage with on Instagram.
Who Is Your Target Audience?
While your overall brand may have a broader range of customer personas, it's likely that not every single one will be on Instagram. 65% of all users on Instagram are aged 18-34,which may narrow down your target audience on the channel. Therefore, you need to consider how your brand can adapt itself to suit this segment of customers to optimize success for your business on Instagram.
Top Tips For Creating A Visual Brand On Instagram
1. Use High-Quality Imagery
Whether you use stock photos or have the skills and equipment in-house to create beautiful pictures, make sure you keep the level of quality consistent throughout your channel. Instagram is very visual, so you need to make first impressions of your feed count.
2. Set The Tone Of Voice
If your brand has a typically corporate tone of voice in general communications, you may find you need to relax this on Instagram. Personal, human interactions and 'real' content are what work well for brands when it comes to engaging users.
3. Consider Typography
It's important to consider your brand guidelines when thinking about which fonts to add into your images and stories, but it's also helpful to consider how different fonts can be used to capture the attention of your audience and convey subconscious meanings. Read more about it on Canva's blog post.
4. Plan Ahead
Don't dive straight in; have a content calendar that works at least two months in advance to ensure your content flows and follows the themes of your strategy. While being flexible and reactive to current trends and hot topics where relevant, try to stick within the set campaigns and themes as this allows you to better test what works. It also gives your content structure, which will help you achieve your goals.
--------------------------------------------------------------------
Test And Optimise For Instagram Success
Any successful Instagram strategy involves constant testing and learning. Within your Instagram Insights and other tools, you'll be able to see as your audience grows when the best times and days to post are, and you can create a posting schedule around that.
Creating A Posting Schedule
Whether you're starting a new channel from scratch and don't have this audience data yet, or are looking to grow an existing channel, it's always advisable to play around with different post times and days to find the optimum.
To do that, you should create a posting schedule, which dictates what content you are posting at what times. Then when you've tested these times over a set period (we advise testing for 3-4 weeks), you can analyze the data and determine the impact of posting times on your chosen metrics. For example, if the engagement was a key metric for your strategy, you may find that users are more engaged with content that is posted in the morning (8-9am) as opposed to mid-afternoon (2-3pm). You can then use these learnings to alter your posting schedule going forward.
Play Around With Themes And Content Formats
When you're confident with posting times, it's time to move onto testing the content you're sharing. Many brands use themes to shape their content over some time, such as a month or quarter. These themes will be relevant to your brand but also your audience, and can draw on topics that may not be touched on in your brand's other marketing channels.
For example, if you are a clothing brand, your traditional marketing may focus on sales and a product, whereas on Instagram you might want to explore trending topics in the fashion world.
Also, offer insights and expertise on how to select and style the top fashion trends. While this will still subtly hint towards the audience buying the clothes that you sell, it also grows the relationship with your brand as you add value for the customer by giving them information and advice.
The format of your content also plays a significant role in the success of your strategy. Images,a video, live streaming, stories, highlights, Instagram TV - these are the formats that Instagram offer, so why not play around with them and test what your audience is most receptive to?
Like with the posting schedule tests, always keep a detailed record of the themes, content, and formats you are sharing and when so that you can overlay the data at a later stage and determine which worked best for your brand. Then repeat and run further tests to tweak and optimize your channel based on what your audience want.
--------------------------------------------------------------------
The Anatomy Of A Great Instagram Profile
Optimizing your Instagram profile will help your audience discover you quicker and will keep the channel working towards its marketing goals.
A Clear Username
Users can search your username to find your profile, so make sure it's as close to your business name as possible. If your brand name is taken and you have to create a variant, make sure your business name is at the start of the username and avoid using numbers after it as this can be viewed as spam by Instagram.
You will also be asked to enter your business name in the name section of the profile, which is another search criteria for Instagram, and another chance to display your full brand name to ensure users can easily search for you.
Use The Link Section
No matter what your Instagram goals are, you'll no doubt want users to explore your brand further, off the channel. Use the link section in your profile's bio point users to where you want them to go next, whether it's your homepage or a particular part of your website.
Some brands use the link section as part of a post's call to action; for example, adding 'Find out more via the link in our bio' to a post and then adding a specific link to your bio for a short period can help direct your engaged audience in the right direction.
Add A Location
If you're a brick and mortar brand and have a shop, studio or venue that you want your audience to visit, then you can add a location to your bio and your posts to show where the image was taken and help new audiences to find your business on the map.
--------------------------------------------------------------------
Growing Your Instagram Following
Posting great content and having a perfect profile are just some of the steps towards growing your following on Instagram, but to supercharge this growth you need to get your brand in front of the right audiences.
One of the critical ways that Instagram influencers grow their followings is through exploring and using relevant hashtags. You can find the right hashtags for your industry and your content using tools such as Hashtagify. Start including these in your posts (10-20 is the right amount to aim for) and also start looking at what the top users appearing in those hashtag searches are doing.
What is their content about? What about their imagery stands out? Are they a brand or
an individual?
Moreover, while you're exploring, start to socialize by commenting on and liking posts by accounts that have a similar audience set to yours. Keep comments authentic and natural, don't be spammy - only say something if you have something relevant and worthwhile to say. This puts your brand in front of that user's engaged audience and will encourage them to click on your profile and find out more about what you have to offer.
--------------------------------------------------------------------
Instagram Stories are a way of sharing content that only lasts 24 hours, which lends itself to more 'throwaway' quick, engaging content that is time sensitive and ' at the moment' and doesn't have a place in your more structured feed. Also, because stories appear at the top of a user's feed when they first open Instagram, it's a great way to get more content in front of your audience straight away.
While Stories are a great feature to use in addition to posts, be careful not to rely on them solely, or go the other way and duplicate content across posts and Stories. Make sure when you're deciding how to share a bit of material, you consider the pros and cons of both Stories and posts as sharing options. Stories are best used for 'snackable' content, as they automatically scroll through and if a user isn't engaged, they can speed up the process and flick to the next Story.
Make sure your Stories are interesting and relevant to your audience and share your message in a quick and easy to absorb way. For example, some recipe websites use each Story to demonstrate the steps of a recipe, with a link to the recipe at the end. While you can only add a link in your Story if you have a business account with over 10,000 followers until you reach that number you can direct your audience to click the link in your bio.
You can also save Stories as Highlights, which appear at the top of your Instagram profile's grid (above the images). So if you create a Story that works well or something that is timeless like a how-to demonstration, you can add this to your profile for future users to enjoy.
--------------------------------------------------------------------
Making The Most Of Instagram Business Tools
Now you have an Instagram for a Business account; you have access to many tools that will help you to boost Instagram's worth for you as a marketing channel.
Business Profile
First of all, there are significant differences in the Business profile compared to a personal profile on Instagram. The contact section on your Business profile allows you to add an address,email and phone number, making it easy for users to contact you straight from the app - no Google required.
Insights
Instagram Insights is the built-in analytics tool launched by the channel in 2016. The long awaited tool allows you to see demographic information for your followers, including location and interest, as well as when they are most active on the platform. It also tells how your content is performing, from reach and impressions to engagements on each post. This information is invaluable and allows you to test and measure your efforts over time to optimize your Instagram strategy for success.
Promote
While you're primarily aiming to create content that your current audience engage well with, it's possible also to use Promoted Posts to further the reach of your content and get your brand in front of new viewers. You can boost existing posts from your feed or create specific content for promotional purposes that introduces your brand to new engaged users in your target audience using demographic targeting.
---------------------------------------------------------------------
Conclusion
Instagram is a fast-growing channel, so ignoring it is no longer an option.
Marketers should embrace it and unlock it's potential for their business through testing, repeating, and more
testing. There is no right or wrong, just guides based on what other brands have tried and tested
already.
However, finding your own brand's place on Instagram and growing your presence will
require being brave, experimenting and most of all being true to your brand and what you customers expect from you.