Instagram should play a vital role in every marketer's plans in 2019, as we said in our recent article, How to Create An Instagram Strategy For Your Business. However, how businesses use Instagram can vary depending on the audience, the content available and the nature of the brand.
With 300 million users watching Stories on a daily basis, they play an essential role in the strategy for many businesses on Instagram, and in this article, we will share with you how you can harness the power of Stories to drive brand engagement and sales, as well as how other brands have done it so well already.
What Content Belongs On Stories v The Grid?
The biggest failure of brands when using Stories is duplication. Stories are not just another way of sharing what's already on your grid. However, that said, they can be a great way of complimenting the content on your grid by offering a closer look.
The way many businesses view the difference between content for Stories and the grid is to look at it this way. Stories are only around for 24 hours (unless you use Highlights, which we will come on to later), whereas grid content is around forever. So, grid content should ideally be timeless or at least still relevant when looked back on months later, and high-quality imagery that you want to showcase for the lifetime of your account. If you're aiming to create a brand style on your grid (similar tones and styles of imagery), then this will also help you to decide what is grid-worthy content.
Stories are ideal for 'snackable' content that doesn't necessarily benefit the user to be around long term, or doesn't suit your grid style. It's also a great way to tell a longer 'story' (hence the name, Stories), with the ability to add unlimited slides.
However, making the most of Instagram Stories isn't just about sharing 'non-grid' content and off-shoots. There are many audience-engaging features unique to Stories that can help your brand harness its power.
Spark a discussion with Polls in Instagram Stories
As we know, Instagram considers engagement to be a key indicator of a channel's worth. The more engaged your audience is, the more of your content they'll see. Moreover, with Polls, you can easily encourage users to interact with your content in a fun and throwaway manner, while also gaining insight into their thoughts on any chosen topic or just breaking up the monotony of photo after beautiful photo.
In 2017, travel accommodation brand Airbnb ran their 'Travel Tuesday' campaign using Polls in Instagram Stories. The campaign helped the brand do two key things: make use of user-generated content (UGC) and engage users on Stories.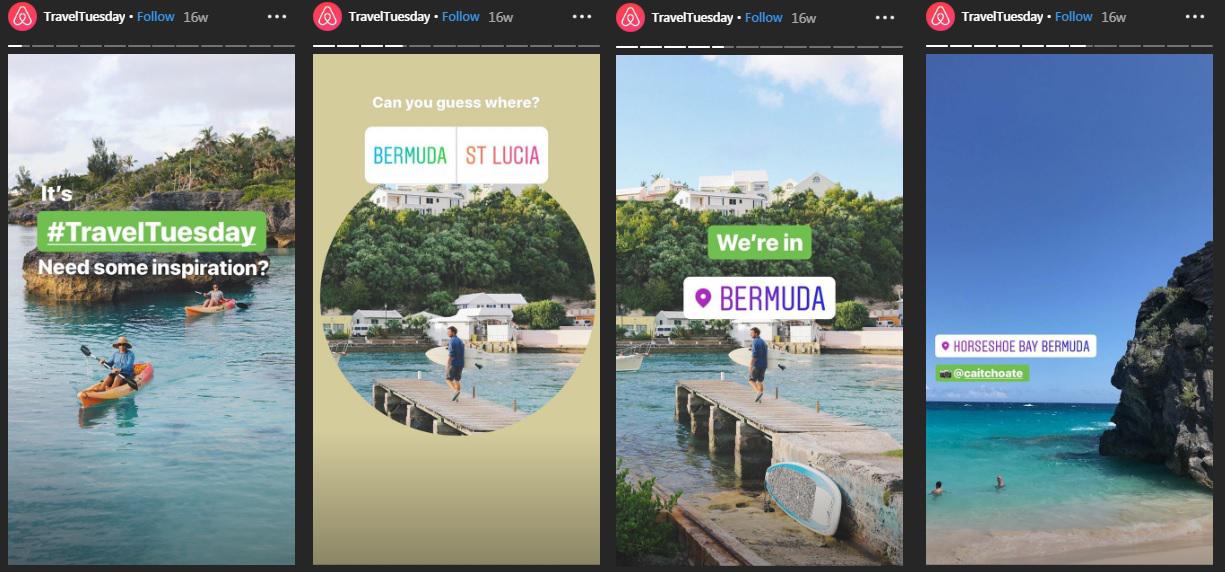 Having UGC at your disposal makes it quick and easy to generate regular stories and reward users for sharing their content with you. Also, by creating fun little quizzes or question polls, you're making engagement and giving your audience more reasons to interact.
Use Links In Stories To Increase Traffic and Sales On Your Website
Stories are another way to deepen the emotional connection and relationship a user has with your brand, which is excellent. However, how much is that worth unless you capitalize on it? One way Stories can help push this is with direct links to your website.
The 'Swipe Up' and product tagging functions are two ways in which a brand can add a link to a landing page related to what is in their Stories. Whether that be a product in the image, a recipe you've taken the user through step by step, or a landing page related to a campaign you're running on Stories, linking adds an actional call to action (CTA).
This has revolutionized the way marketers can use Stories and measure the impact of their campaigns, linking content to increases in traffic and sales generated directly from Instagram Stories.
The only downfall is, at present, your business will only be able to access this feature if you have over 10,000 followers. In the meantime, brands with less than this are adding a CTA to their stories directing users to click the link in their Instagram Bio, which still has a positive impact on driving users to the next step.
Tell a digital story with Instagram Stories
The clue is in the name; Instagram Stories are designed to allow you to take your users on a journey and tell a digital story. A favorite way to do this is by offering behind-the-scenes content that lets the user in, sharing more of a 360-degree view of the business rather than the 'perfect' view they get from the grid and other professional marketing channels.
Behind-the-scenes stories should feel raw and real. While you still want to curate and edit them to have the desired effect, don't make them too perfect or they won't feel authentic. Users want to peer behind the curtain and see real people and natural settings to explore that more profound connection with the brand.
NASA is an excellent example of how you can use Stories to let people in. From behind-the-scenes footage and additional research that compliments their posts on the grid, to chatting to inspiring people who work at or with Nasa.
Their Women In Science campaign showed various women in several science careers sharing why they love working in science, as a way to challenge preconceptions about science and gender, as well as inspiring other women to pursue careers in science.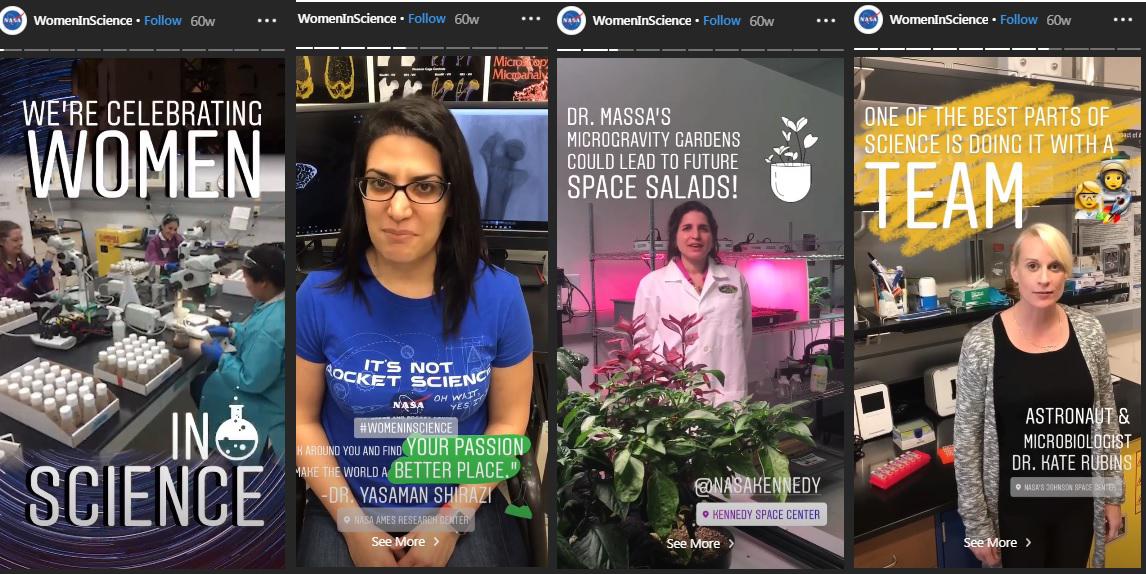 Use Instagram takeovers to work with influencers
Instagram takeovers are a great way to let people in with behind-the-scenes insights, as per the previous point, but what they're also good for is getting your channel in front of a new audience thanks to influencers. Find an Instagram influencer that has audience demographics in common with your brand, and that can offer added value to your audience. For example, if you are a makeup brand, you'd want to enlist a makeup artist with a large following to do a takeover and share tips on how to apply, using your products. Not only does this give your following existing content that is interesting and valuable; it also opens up the influencer's following to you, as they would share the takeover on their channel as part of the agreement.
Using Highlights to save your best Stories on Instagram
Earlier we mentioned that Stories are great for throwaway content as they disappear after 24 hours. That is unless you don't want them to. Instagram added their Highlights feature, which allows you to save Stories to your Instagram profile. They appear along the top of your grid and can be rewatched any time by people on your profile.
Not everything should be used in Highlights, but if you have content that better suits the freedom of Stories, for example, coverage of an event, but you don't want to lose it after 24 hours as it's too valuable to let go, then adding to your Highlights is the answer.
Try to be as selective about Highlights as you would the content on your grid. Keep it high quality and of value to the user, and ensure it suits the style your brand is aiming for in your profile.
In Conclusion…
Stories cannot, and should not be ignored by any business on Instagram. The key to getting Stories right, as with any content on any channel, is knowing and understanding what your audience wants. Use your existing knowledge of your audience as a basis, and use Stories to test new things. If it doesn't work, it disappears after 24 hours, and if it does work, you can start to explore the idea further. Use Stories to continually experiment, measure what works best and what fails, and use your findings to inform your content across the board.