Social Media Strategy - Part 2
Content Audit
How do organisations decide what content to produce for social networks? To answer this question, they have to conduct a Content Audit i.e. a benchmark exercise where they look at what they are creating and assess their current performance. The assessment should be done on social media platforms, Facebook pages, Linkedin groups, on their websites and so on.
Looking at what has been created, proper objectivity is needed:
What type of content has been produced?
Topics discussed: are they covering all the topics they should?
The tone of voice: too serious, how do they sound?
Relevance: is the content relevant to the audience?
Dated: how old is the content? Maybe some needs updating;
Engaging: do people like and share the content?
Content Audit is a separate part of Situation Analysis where companies look at the content they are producing. There are many different software tools available to grade content and give quantifiable numbers that will give the benchmark. They will allow organisations to understand how the content is performing on their website and social media.
To better plan content, companies look at customers' experience. Customers use many different channels and what needs understanding is the type of content that could work on the various platforms and the type of content customers are consuming as they move towards their purchase decision.Moreover it must also work on mobile devices: as companies produce content, stakeholders engage with the same content via mobiles.
Content audit helps people to say what they think and organisations should test theirs face to face with real people. They should set tests to check how they are performing online watching and learning from what is said by real people, getting their feedback and taking notes to improve.
Another great way of catching that learning is to use Screen Recording Software like Camtasia or Screenflow. Once companies put up their material, customers sit in front of a camera while looking at it. Clicking record, companies will have a track of what it has been clicked, where the mouse has gone, the audio as the audience speaks and their facial expression. With this tool companies have clear and recorded evidence on their content performance.
Audience Research 2
What is the audience excited about? What catches their attention? Companies can go on the web and find out what people are already engaging with. They can ask people about their natural behaviour on the web, how they do their research and what they search. User testing and audience's feedback are essential. They can be done:
face to face;
over the phone;
via Skype;
sending e-mails;
on Twitter or other social networks asking about what content they would like to see;
pushing out surveys via newsletters.
Following are some tools that can help building audience dossiers: Google Suggestion, Ubersuggest, Google Trends, Google Adwords, Blog comments, Discussion forums (Google Groups, Facebook), Reddit, Digg, LikedIn Groups, Twitter, Instagram, Amazon Reviews, FAQs.
Once organisations know what people want from them in term of content, they can use Buzzsumo (paid service) which is a fascinating tool that allows checking how popular different search phrases are across social networks. Buzzsumo helps finding what is working and what is not, what needs follow-ups and what should be avoided.
Next is building a content dossier where organisations should list those ideas captured over the web and their research, in order to look for trends and patterns: what does the audience read? What tweets do they like? What videos do they watch? Organisations should look for that missing piece, the content gap and fill it in.
Content Ideas
Where ideas come from gathering together all the members of the team, sharing information with each other and analysing those questions customers ask all the time:
What's been discussed?
What's been shared?
What questions are asked?
What's been searched for?
Organisations should have the so-called "culture of creativity" which inspires creativity even with bizarre content, as sticking with the safe stuff is not getting anybody anywhere.
What can we turn content ideas into? Here are some of the various type of content available online:
Tweets, FB Posts, LinedIn Status updates;
Pictures, GIFs & Videos;
Podcasts and webinairs;
How to guides, ebooks & Checklists;
Infographics and Cartoons;
FAQs & Google Helpouts;
Interviews;
Slideshows, maps & games;
Polls & Surveys
Competitions & giveaways.
Most companies stick to the easy type of content (Twitter & Facebook) whereas they should try doing the more substantial ones (podcasts, videos, etc...). This will take more time and devotion and if the content is far better than average, it will be liked, eventually shared and go viral.
Among those we suggest:
B2B content;
Research content = a piece of unique research that people read and share;
Reference content = the master list of all the tools in the industry. Become the reference people turn to;
Ebooks & Guides = they take a lot of time and effort but are loved by people;
Topical content = things on the news;
How to content= how to do things;
Controversial content = where organisations take a stand against the crowd to get a debate going;
Case studies.
Another great idea is Multicast Marketing: how to podcast, publish and promote content with Google Hangout, Youtube live, Kindel ebook, etc... which means creating many versions of the same content to post on the different media over several weeks.
Map the Customer's Journey
How is an organisation going to use its content to move people from one point to another? What are the steps customers go through? The customer's journey is a process that may take a very long time as customers are different. However, it always talks about "the before", "the during" and "the after". Companies need to fully understand the steps customers take, which websites they visit, which devices they use, and the questions they have. Customer's Journey underlines the disparate type of content on each step of their journey: different content is consumed in different points. Moreover, Customer's Journey helps the company's content strategy as it maps the content itself (content mapping). Posts need to be created at every step of the customer's journey: the right amount of content at the right stage. Many organisation have the best mateial at the start of the sale to create awareness. After that, there are often gaps. These should be filled with different posts for different personas. Also, content should be posted on all the various websites but always bring people back to the company's one. This is the so called " Hub and Spoke Approach" here a company strategically plans where to place its content on the web to move people on their customer's journey.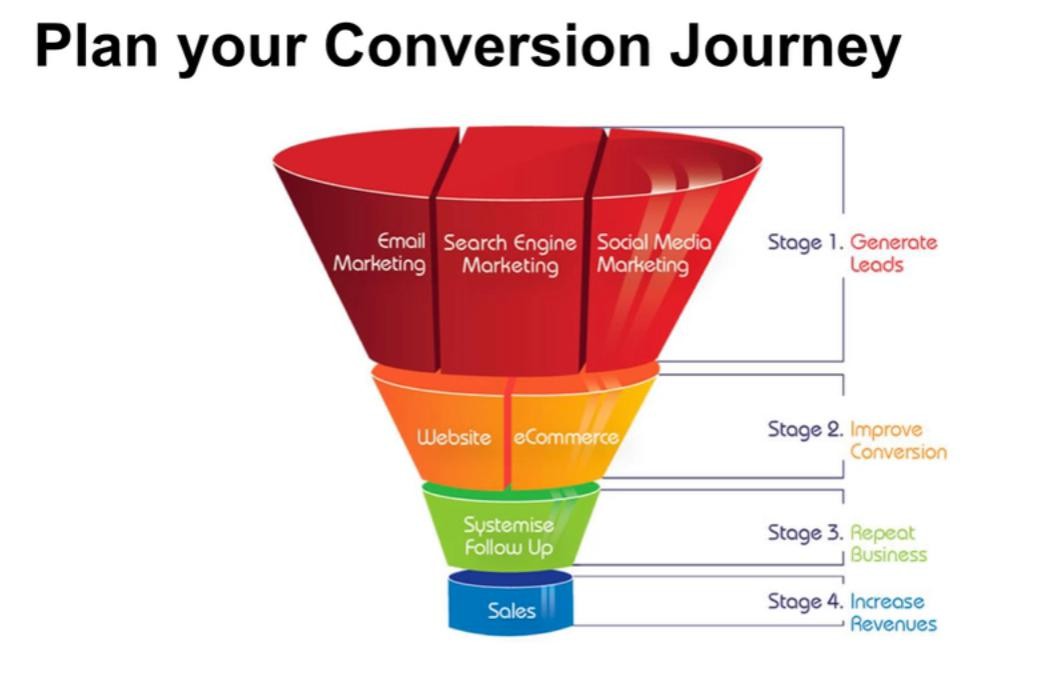 Content needs to be planned against the conversion journey: customers' journey and conversion journey need to overlap.
Landing Pages are specially designed to encourage people to take action on the web pages they are on. On those pages, companies often successfully grab the customer's e-mail address. Organisations that do not have an internal resource to produce landing pages can use tools like Unbounce which provides all that.
Here are some leading software to map the customer's journey:
Vero;
Campaign Monitor;
Aweber;
Constant Contact;
Mail Chimp.
Once companies have designed their marketing funnel then they can work out the Metrics for Pirates :
Acquisition = how do users find you?
Activation = do users have a great first experience?
Retention = do users come back?
Revenue = how do you make money?
Referral = do users tell others?
Content Distribution
Content is a key cornerstone of the entire social media marketing success, therefore, needs to be continually pushed out on the web and promoted.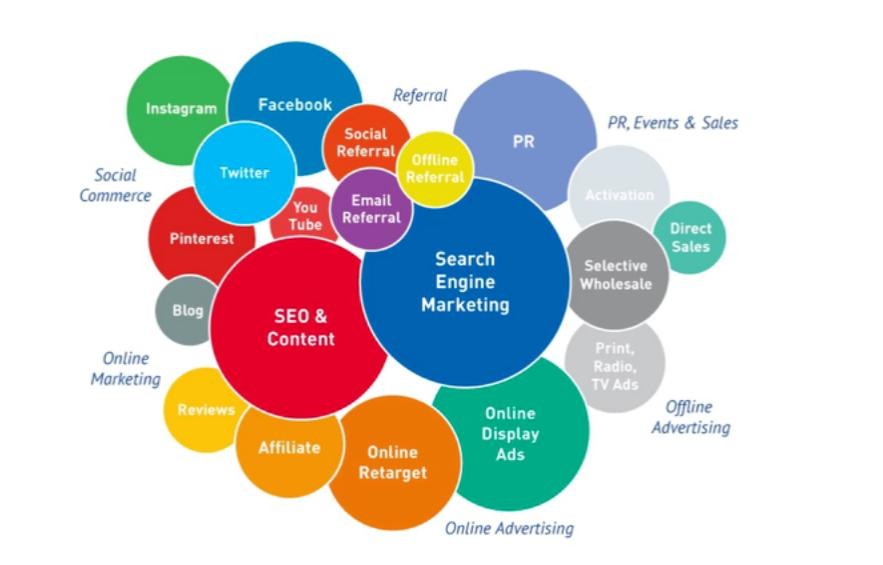 When an article is created, companies need to make sure that it is also found by Google and the other search engines and that the right keywords and meta tags are used. Organisations should also post their content on Twitter and use PPC (Pay Per Click) to advertise in case the content is very good. They should create newsletters to tell subscribers they have just posted something new and never wait for their content to be discovered.
One of the key techniques for content distribution and social media marketing success is called Influencer Marketing i.e. even if companies do not have their audience's complete attention, in different market places some other people already have. These are called Influencers (individuals with a lot of followers). Companies may have found these people during their Situation Analysis research. They should contact them trying to build some relation, asking them to share their content on their web pages.
Actions
It is the planning of the day to day activity making things happen, making sure the company is going to be on the major social media pages. Actions need to be monitored day in and day out while producing material.
In this part of the SOSTAC, companies plan and coordinate their time. For many of them, it is an additional task, and that is the reason why social media have not worked as they should. To exploit at the most their power, there must be dedicated people to work on it. Social media have to be their primary or only job. Whenever it is not possible to have a social media person, the best solution is to have a person looking after socias on a daily basis as a part of their job, collecting and curating information from colleagues, scheduling the time to dedicate to them (i.e. what time posting on Twitter), socialising (i.e. answering e-mail, retweeting, talking to people on social media...) and analysing the company' s performance.
Once the content and the team are ready, companies need to design their process. How are they going to collect this information from social media? Are they willing to write content and post it out? The good thing about designing a process is that it can be changed overtime to make it more efficient.
Organisations should create a process where they collect the information and brainstorm their ideas, draft out the content, checking it and turning it into different versions, posting it and analysing its performance. This process should always be running in the background.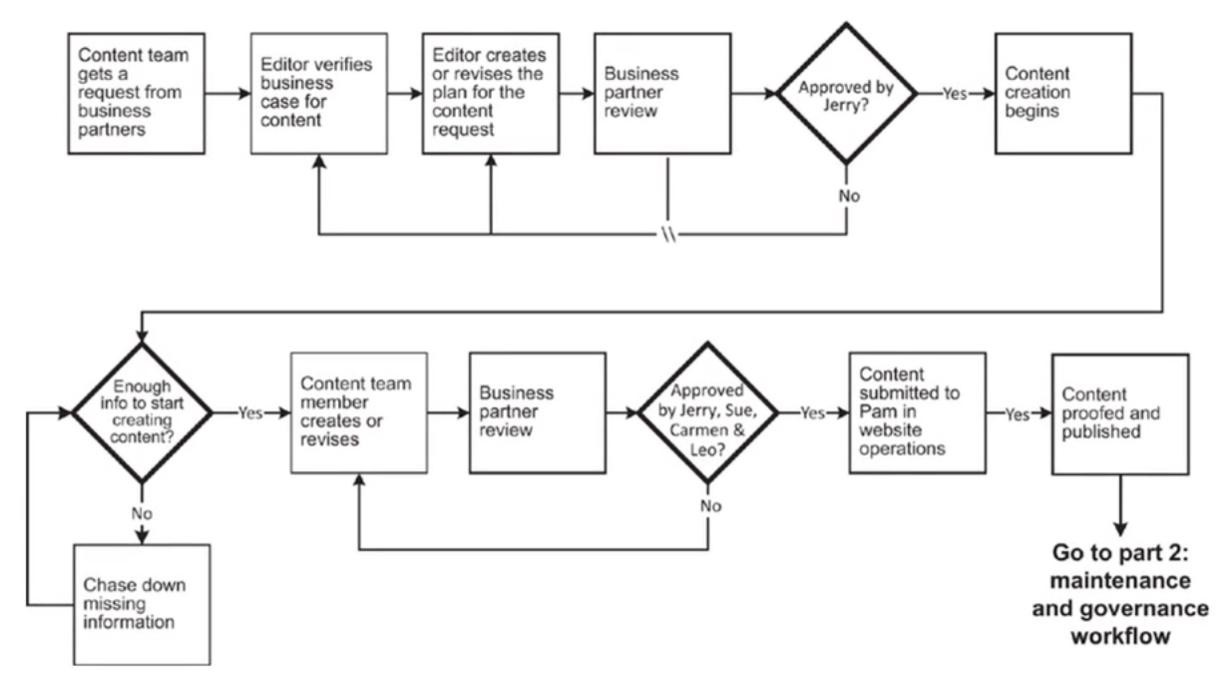 Every company should also have an Editorial Calendar where they plan ahead as far as they can. This allows being more efficient giving a sense of shape and structure at what they are going to produce.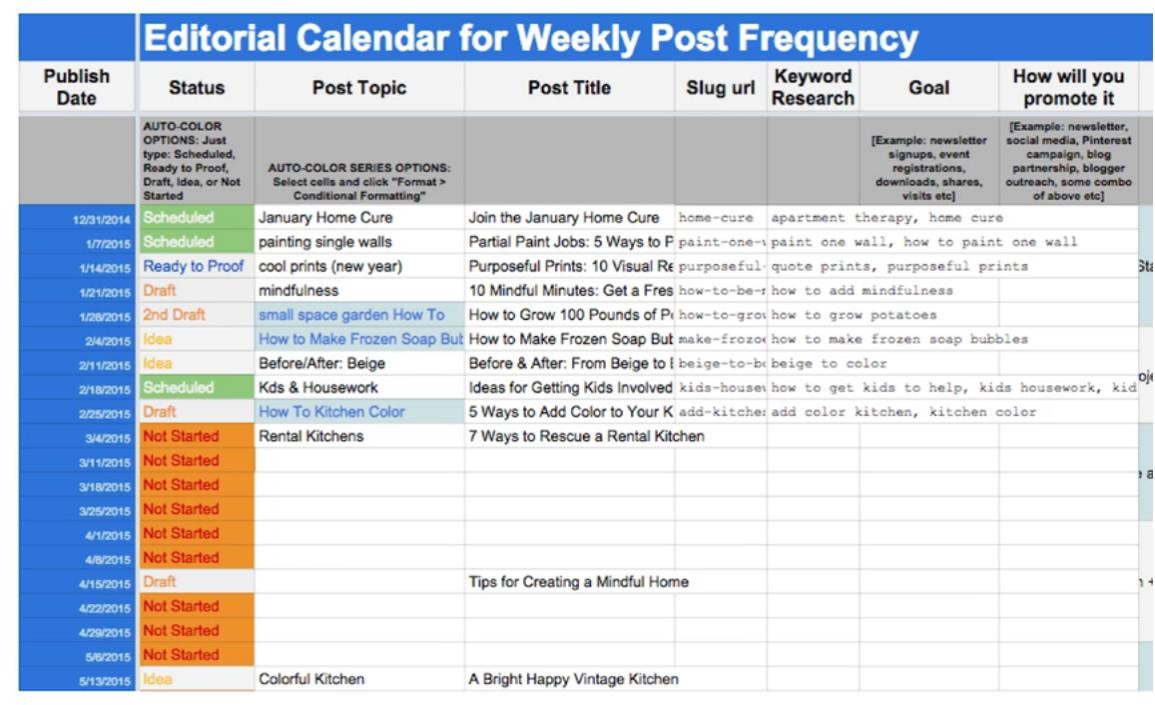 Content calendars show the variety of posts that can be provided, gives motivation and makes it easier to write material on a regular basis. A good idea is the 1-7-4-4-6-12 rule where companies set targets for the content they want to produce:
1 = each day;
over the week;
over the four weeks of the month;
every quarter;
every six months;
every twelve months.
It is imperative to set minimum and maximum targets otherwise one day could be very productive whereas another one could be not.
Once companies have planned what they want to post they should schedule all the material with a specific software which will be connected to the social media sites automatically posting at set times. This will allow programming ahead everything that needs to be posted. It will also make things much easier leaving to the team the only task of checking online for comments and give some replies.
Controls
After Objectives, this is the most important part of the SOSTAC planning structure. Controls combines with what companies try to accomplish and shows that social media is worth doing and can make a big difference if properly used.
Controls relates to the negativity of social media i.e. complaints left by unhappy customers. Most of the unsatisfied clients will go onto social media and review the product or service they are unhappy with. Therefore, companies need to be prepared to handle all sorts of complaints. Dissatisfactions that are not adequately looked after could seriously damage the company reputation.
What do we do when somebody has a problem?
What do we say to someone who is complaining?
The classic approach is to acknowledge there is a complaint without apologising straight away as it may not be the company's fault. Customer service should encourage clients to call or e-mail the company and take the claim off the social media network.
Another form of control is the damage organisations can do to themselves on social media through their own team. It is very easy to post some inappropriate content and hurt the company's image. Software often helps to prevent this kind of mistake as it posts for you. However, there must always be somebody supervising what is posted, not to make any unrepairable error.
How do we control for all these things? Everybody in the team should have the correct training on:
technology = understand how social media work;
legal requirements = what we can and what we cannot post;
appearance = how we use names, e-mail addresses, avatars;
transparency & engagement = the right approach to talk to people online.
Another useful suggestion concerning controls is to have a crisis management plan in place where companies imagine the worst possible situation and learn to handle it. If it happens, the answer on social media has to be extremely quick because waiting too long shows nonchalance and disregard.
Learn from Analysis
Companies can control their performance and get better on social media as social media success is about constant improvement. Control is analysis and looks at what other people have learnt about social media. There is a lot of material available online to find out how to do things the best possible way like articles and previous research.
Here are some examples:
Blogs are read first thing in the morning: a company should therefore have their post ready the day before.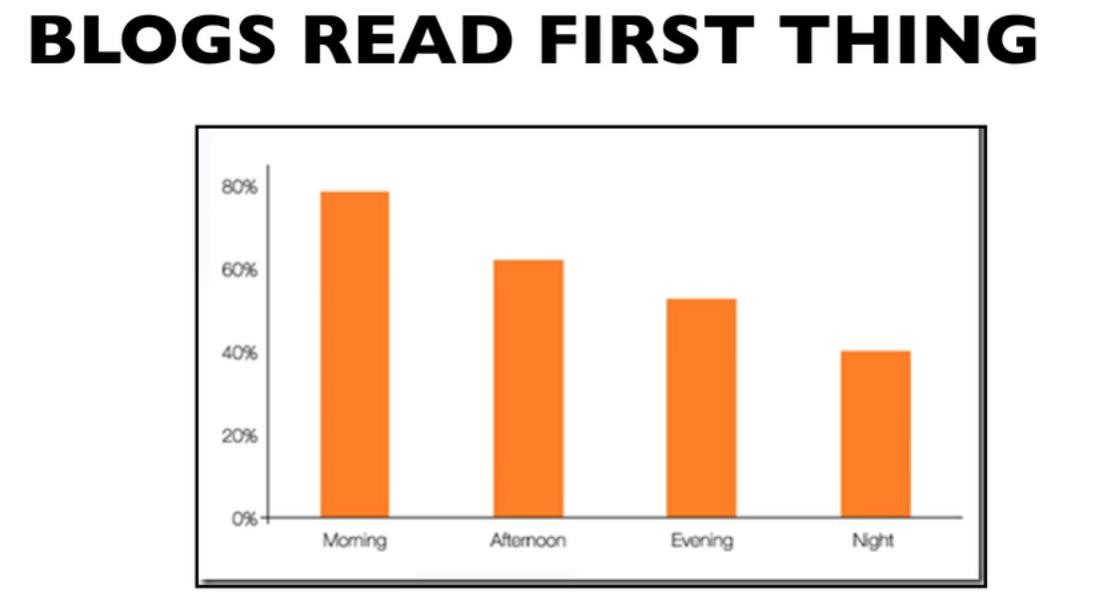 Facebook sharing increases towards the end of the week: companies should then have their content ready on evenings and at the weekend.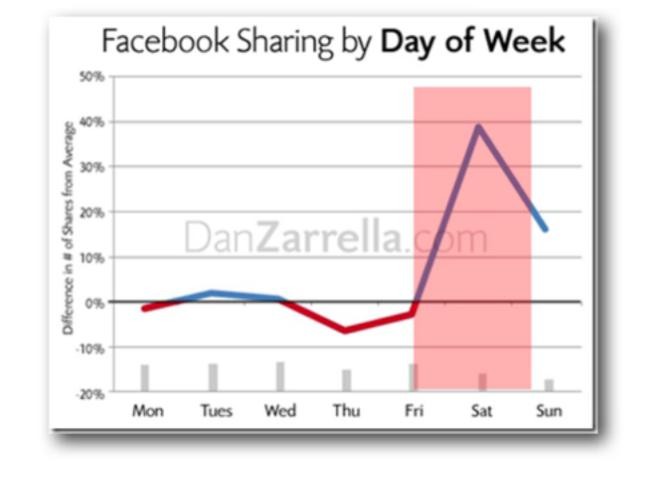 The ideal length of a blog post is 1600 words: If it is too short people will not share it; if it is too long it will be very difficult to read.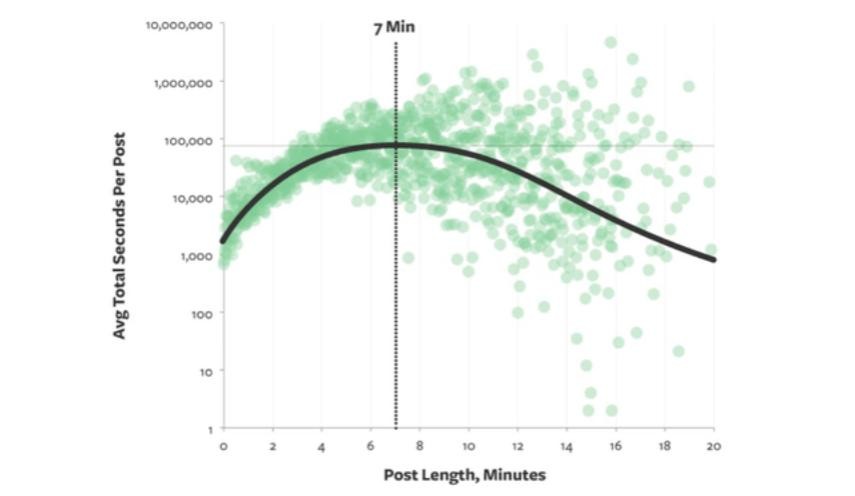 Sharing software will allow to post the right things at the right time.
The performance of social media marketing will improve following these and some other simple rules as they are based on evidence.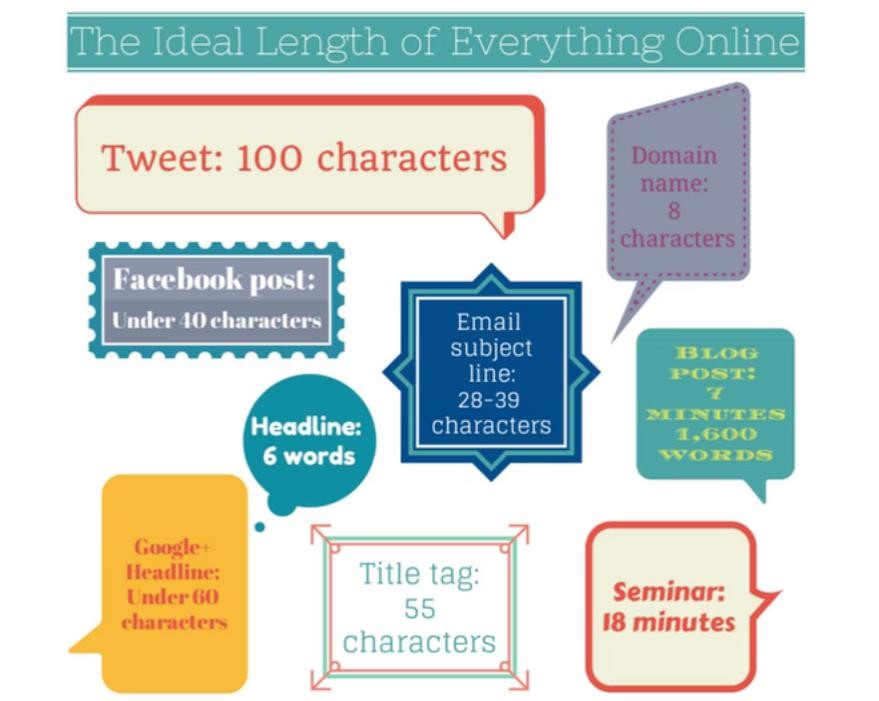 Test and Learn
This is another interesting part of controls in the SOSTAC scheme, and it could make a huge difference to companies' social media success.
How is testing done? There are a few structures organisations can adopt to do their testing and learning, and an excellent one is from Amazon. It is called the Phame process and can improve everything they do:
Identify the PROBLEM
Formulate HYPOTHESIS
Propose an ACTION
Agree on the METRICS
Run the EXPERIMENT
If that does not work a great experiment companies can run is done via Google Analytics.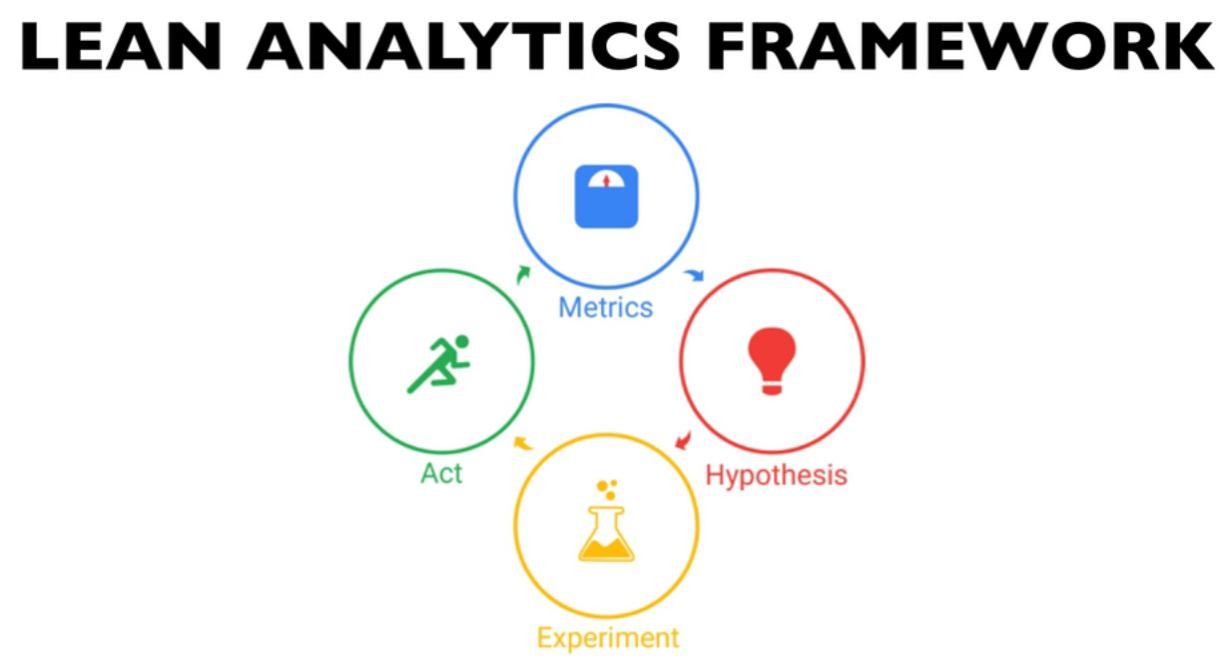 Here is an example with a YouTube video:
METRICS looking at metrics a company realises that watching their video the audience drops off after the first ten seconds;
HYPOTHESIS the video is not grabbing the public's attention at the very beginning therefore, it needs to be changed;
EXPERIMENT the company can keep the existing video or they can run two different videos side by side;
ACT the video that is working the better will be the control video.
What needs to be done, therefore, is constantly looking at the numbers and make changes that are based on those figures, if a company wants to improve.
Show ROI
The main reason why organisations decide to do social media is to generate a return on their investment (ROI) i.e. that money they spent on software licences, time, people, their training, computers, desks and so on. A return in generated when the amount of money gained is much more than the money invested:

Most people do not calculate the cost they spend on social media, some others are not interested in obtaining any money or selling anything as they only want people to acknowledge, read and understand what they publish. Some just want people to change their mind about something.
There are many ways the benefits of social media can be calculated. Here are a few:
Advertising Value (equivalent cost impression, the money devoted on advertising is less or more than the money spent on social media?);
Web Traffic Value (equivalent PPC or SEO effort, looking at analytics, how much traffic do we get on social media compared to our website? What would be the cost of getting our website on the top of the search engine results);
SEO Position (impact of SEO and traffic, social media marketing is helping with the search engine position and when people click on the link, they buy from us);
PR Value (equivalent press/influencer mentions, social media is great for reaching the press and people with influence, but there is a cost for that);
Content Value (equal cost of production, create material we can use many times);
Research Value (equivalent effort to acquire, we might uncover business opportunities and get a return on that);
Customer Service Value (encourage customers to self-serve, people turn to social media to solve their customer service issue, and we might give a quicker answer on social media than over the phone);
Lead Value (equivalent cost to acquire and LTV, we can track the numbers of enquiries we get and convert them into sales).
Using social media an organisation has to do a lot of calculations. This is done to get things right and not to lose the money invested. In case the ROI is not okay, companies should ask themselves how to improve their performance on social media. Regarding budget, they should be prepared to experiment with social media. A good way to allocate it is the 70 – 20 – 10 rule: 10% Hard, risky, complicated; 20% Moderately risky, should appeal to new audience; 70% Safe, standard content that appeals to a huge audience.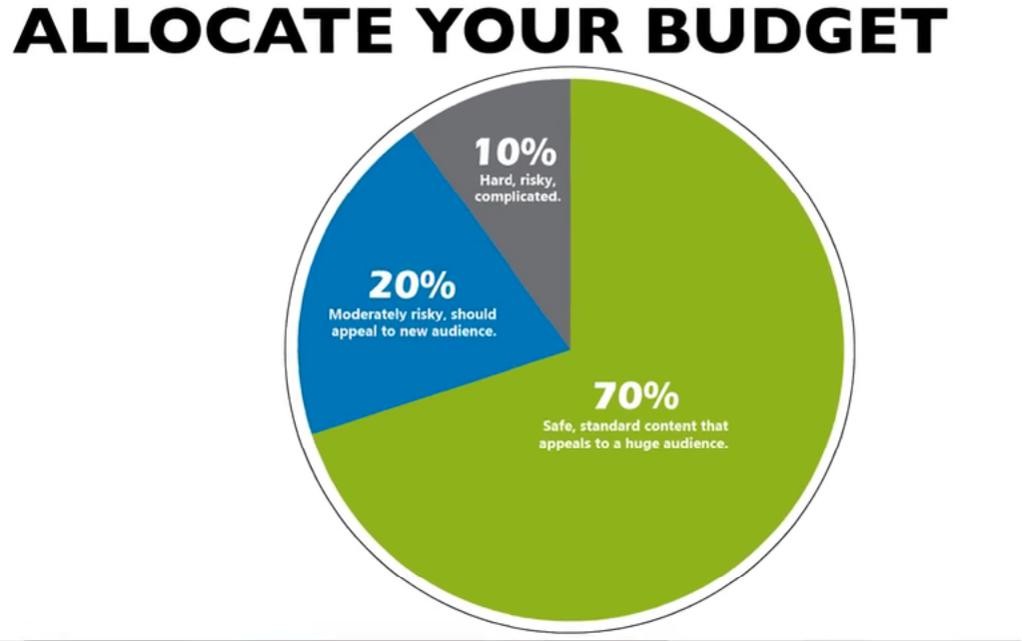 Analyse the Data
The final part of Control in the SOSTAC is the analysis of the numbers which will show the impact social media have on organisations. How do organisations use social media data to make a difference: First of all, they must have clarity of objectives knowing what they are trying to achieve, second, their KPIs also have to be very clear. Once the goal is clear they need o assign a monetary value to their metrics (i.e. the number of Facebook followers is equivalent to a certain amount of money);
Review those numbers to see if they are moving in the right direction;
Look backwards to their targets to see of they are sticking to them;
Look at their web analytics to check those numbers.
The key part of this is to go back to the Auditing Process with its baseline to see the growth from the start. This will only work if the benchmark exercise has been done properly.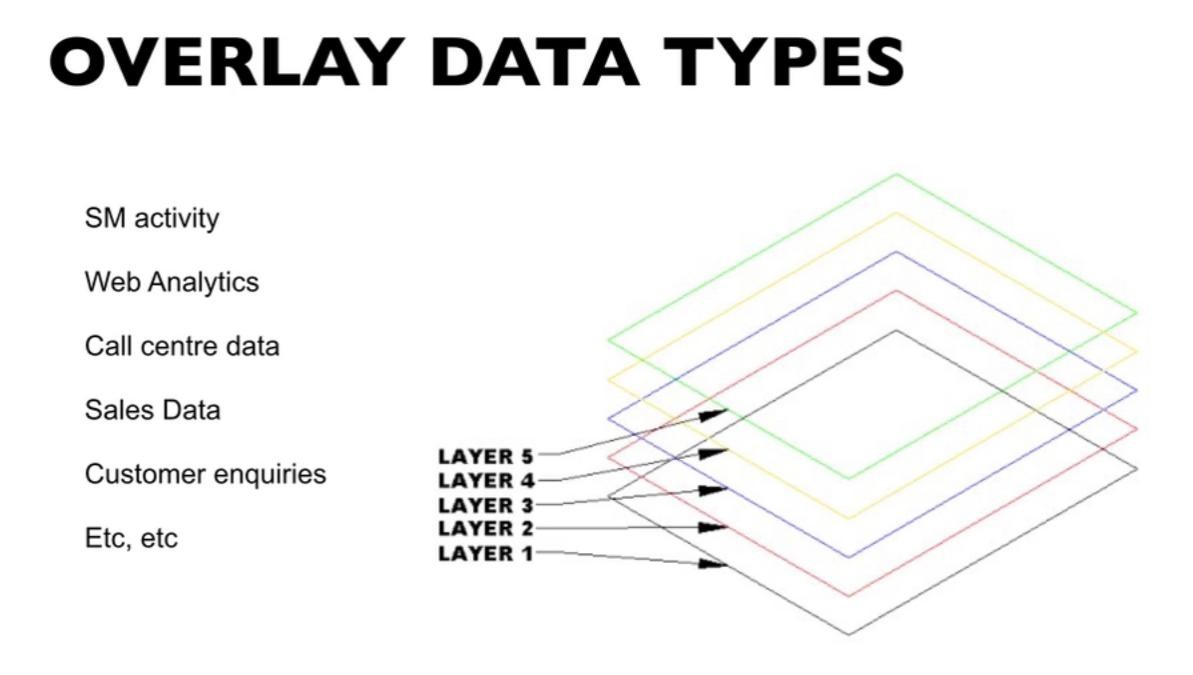 However, companies need to use other forms of data to show if social media has made a difference. Like with any types of analysis there will be certain areas where it will be very clear that social media has made an impact (cause) others where it might be a chance (correlation) like for example the fact that more people are talking about a particular company for other reasons. There are things organisations measure in social media that do not look very useful however the social media team should keep an eye on them.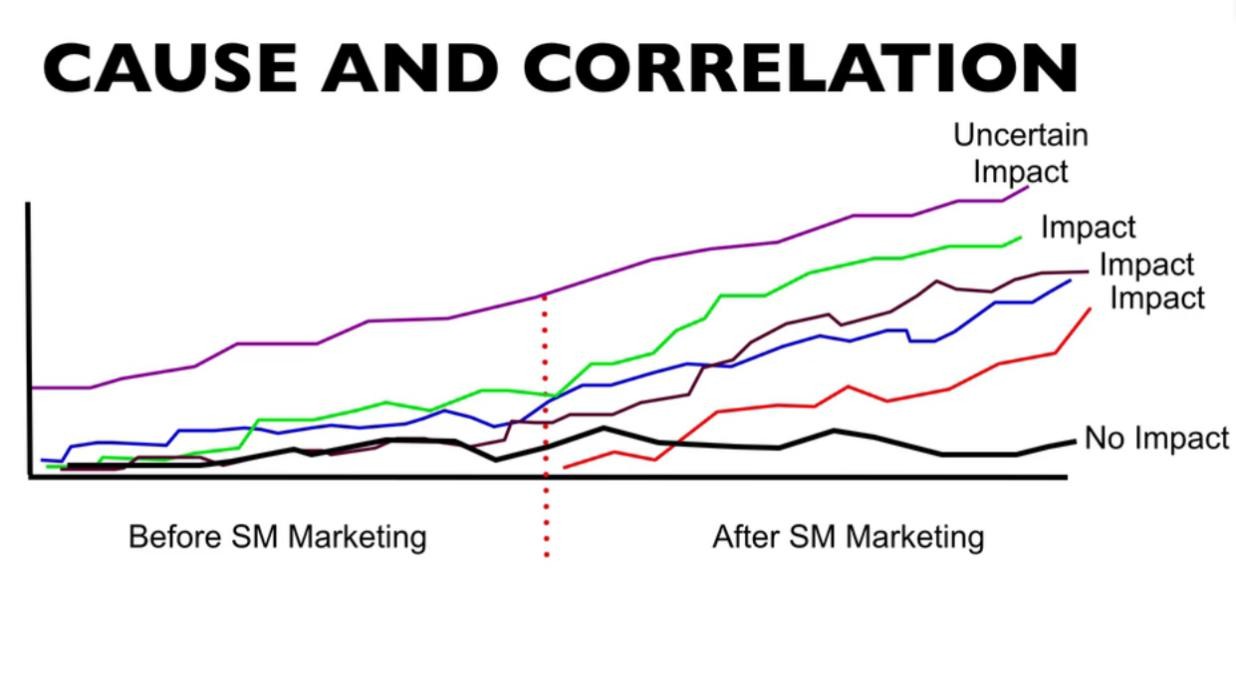 Companies need to follow the 10/90 rule, spending 10% of their budget on the software and 90% on the brain: they need people who have the time and the space to do some thinking and some analysis on social media.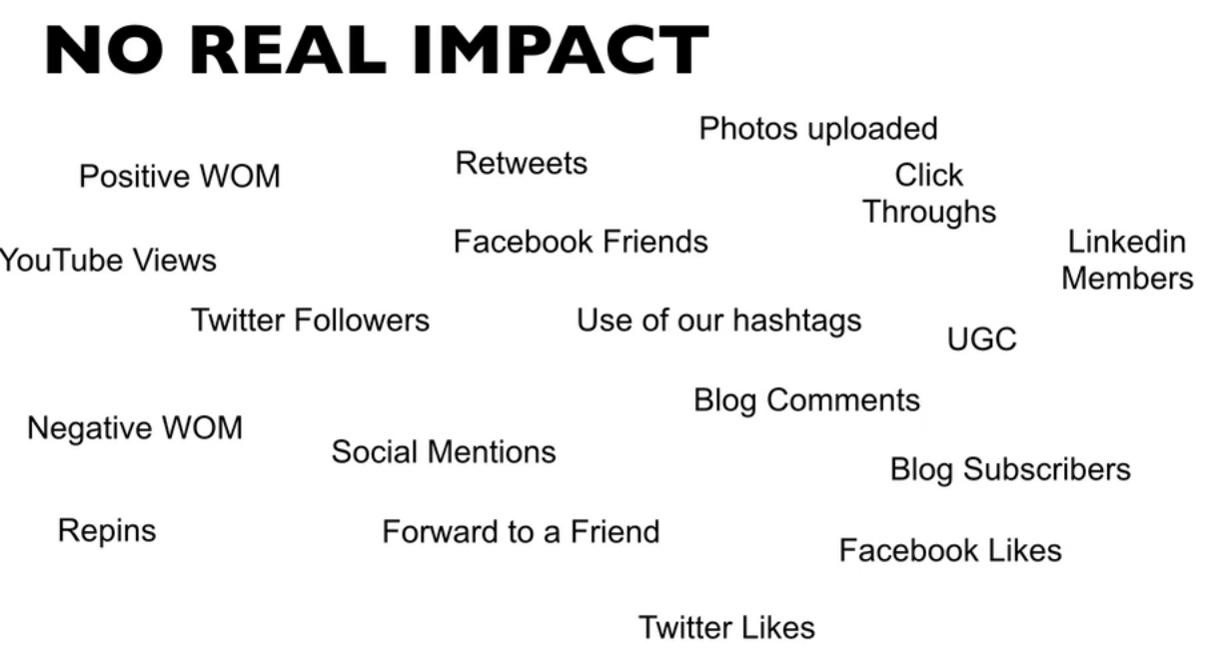 Social media analysis and social media marketing are about quantifiable and qualitative numbers (what is happening and why is it happening):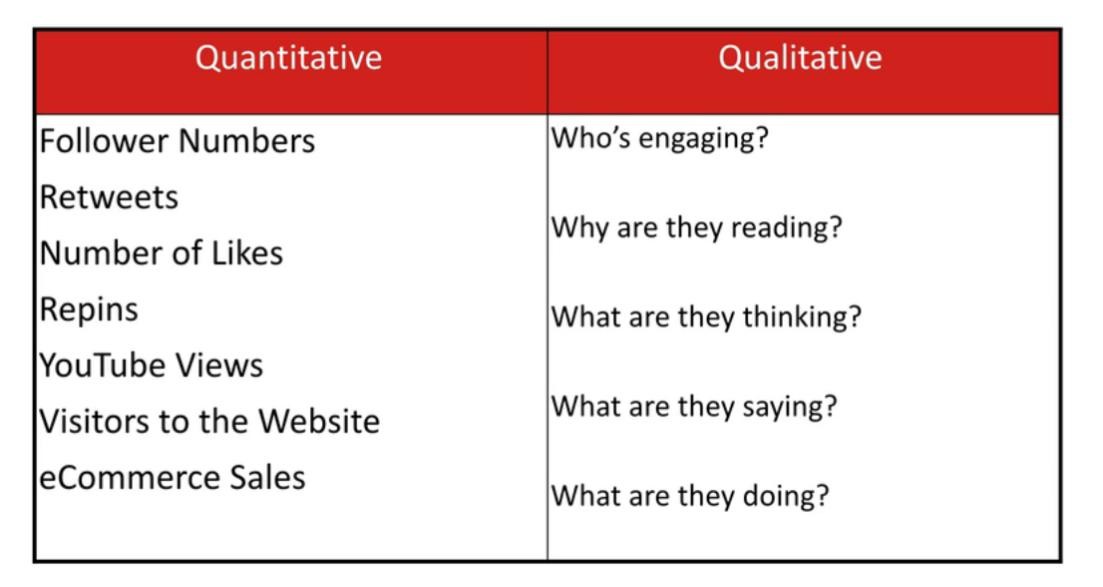 Social media staff should collect and collate the information, see what people talk about, look at the topics and issues, discuss the problems they may have, and make use of the social data to improve their work.
Conclusion
Social media is time-consuming and needs a great effort, but it should not be pressure. Moreover, it is definitely worth it if companies are prepared to work at it properly. Every single company needs to build their vision of social media marketing success as nobody will share a template to do it. All the tools we need are already there. Therefore, an organisation only needs to structure a winning way to come up with a clear strategy. The SOSTAC shown here is probably one of the most useful and recommended as it teaches how to do research, how to look at the audience and how to review the performance. It will help to put together a winning strategy and style picking only a few social media to develop. Thanks to the editorial calendar it will contribute to scheduling all the post to publish. Finally, it teaches how to keep an eye on the numbers and metrics.