This topic has been conceived in three parts.
Matching you to a turbulent future job market
This material is part of our New Course: Start your New Career Strategy: How to Land that Dream Job
The Mother of All Recessions is coming
The Americans have a massive bomb called MOAB, which is commonly referred to as the "Mother Of All Bombs." Sadly, as I write this at the end of June 2020, it looks like we are heading for the economic equivalent: "MOAR" - the Mother Of All Recessions.
In the UK, the Bank of England has warned that the UK is set for its worst recession in 300 years. In America, over 44 million people are now unemployed. That is a staggering amount and 11 million more people than the entire working population of the UK. In many other countries, the situation is also dire and severe economic winds are forecasted.
Your job may be under threat if not already so
For anyone at work, looking for work or hoping to get better work, the future is extremely uncertain. Unemployment is up and vacancies are down. In my sector, marketing, vacancies are down 75% on last year www.marketingweek.com .
There are thousands of people in the UK and millions of people around the world who have stopped work because of Covid-19. Many of these jobs will simply not be there when the Covid-19 crisis is over. If you have already been made redundant then you may find yourself in a buyers market with little demand and plenty of workers to choose from.
This is the new normal.
We have been here before. In 1987 we experienced the Black Monday stock market crash. In 2000-02 we experienced the dotcom recession. In 2007-08 we experienced the financial crisis. Now, with Covid-19, we have the fourth major shock in 34 years. That is an average of one shock every 8.5 years.
I have experienced them all in my working life. By the time I retire, I can expect at least another one that is not even on the radar yet. For students thinking about a long 45 year career ahead of them, the threat of disruption is great and they should expect to be prepared for at least 5 major shocks in their working life.
The difference with Covid-19 is that the impact has been sharper and more universal than ever before. This increased turbulence will simply be a part of future working lives. It will lead to a fundamental change in how you work and engage with employers. You should expect more change both in your job, your industry, and your employment terms.
For a great summary of all this, read "The New Long Life, A Framework for Flourishing in a Changing World" by Andrew Scott and Lynda Gratton (published in 2020 by Bloomsbury).
You need to get ready now for a fluid career future
So, you need to start getting ready now for the fluid career future that lies ahead. This future is not just the next few weeks or months but the next few years.
If you are like I was 25 years ago, you may not really have given your future career much thought. I was a young energetic worker focused on the job at hand. There was a natural career ladder that I could climb but I never really thought about whether it was the right ladder for me. It was only when I became frustrated at the lack of opportunities at my firm that I thought about my career.
Inaction is no longer acceptable and you owe it to yourself and your loved ones to become a master of your own destiny and to take your future career seriously.
What you need to do now
So, to get yourself ready for the disruption ahead, you need to do three things:
1.Match Yourself to the Market
2.Develop a Career Strategy
3.Start Marketing Yourself
Step 1. Match Yourself to the Market
The Personal Strengths Audit
A friend of mine used to be a policeman. After a while, he realized that he could put his police experience to good use as a trainer in anger management. He is now in high demand as a trainer for health workers, government workers, and frontline staff in how to deal with angry customers and the general public. Knowing your real strengths has a big impact on what jobs you can apply for.
What real strengths do you have and how does that affect your potential job market? You may have strengths that open up a new job area that you have not previously considered. Are you great with children? Then how about teaching? Are you good with numbers? Ever thought of being a financial bookkeeper? Do you have a hobby that you love? Can you turn that into a business? Are you great at explaining things to others? Then how about training?
Knowing your real strengths is therefore an important exercise. You should, therefore, undertake a careful Personal Strengths Audit. Indeed, your strengths can be divided into 16 different areas across different competencies. Use the template below to see where your strengths lie. Try to fill as many boxes as possible with at least one strength.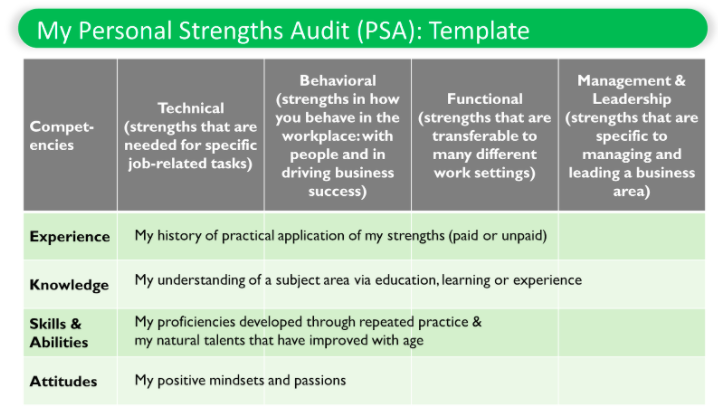 Wherever there are empty boxes, these show potential areas weaknesses against other candidates going for the same job. Of course, the exact strengths and weaknesses will depend on the exact job you are applying for but whatever they are, they will fit somewhere on this matrix.
Looking inwards at yourself is key to this process. Indeed, you need to look within yourself first before you look outside yourself at the job market. Dig deep and see what you find.
The Personal SWOT
Despite all the economic gloom, not all sectors are performing badly and some are actually benefitting from the Covid-19 crisis. For example, many online industries are growing faster than ever including online education, online shopping, and online gaming. At the time of writing this, there has been "an explosion" of domestic holiday bookings in the UK as some travel restrictions are lifted.
There will also, therefore, be opportunities. You can now capture your own strengths & weaknesses and the external opportunities & threats in a Personal SWOT (see below). Use this SWOT to generate the key career questions that you need to address. Examples are: "What jobs are there in online education that I can attain in the next 6 months?" or "What do I need to do to become a qualified book-keeper?" Getting the questions right is critical to getting the answer right. As Albert Einstein famously said, "If I had an hour to solve a problem I'd spend 55 minutes thinking about the problem and five minutes thinking about solutions." In other words, if you define the problem correctly, the answer is much easier to find.
Do not underestimate the power of the humble SWOT.
This tool has been used in complex global businesses to simplify the strategic questions it faces. It can therefore certainly be used by you at a micro-level. It is also generally abused. In my experience of seeing hundreds of these, I would say that only 1% are done properly.
Doing a good job of this first step will significantly help you to prepare for the fluid, turbulent future ahead.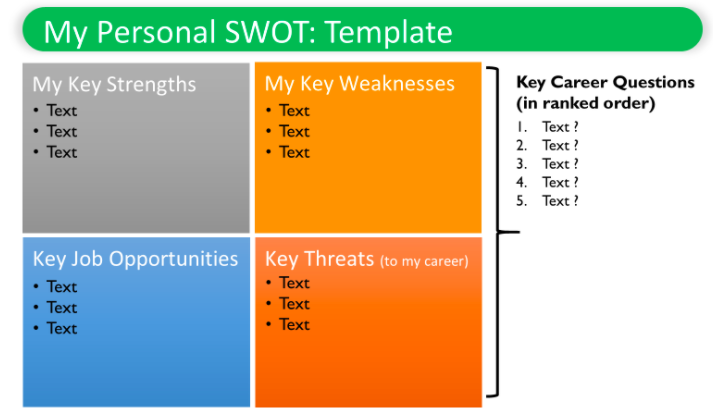 ---
This material is part of our New Course: Start your New Career Strategy: How to Land that Dream Job

Where you will learn how to:
Find Your Real Strengths
Understand the Real Recruiter's Needs
Pick the Perfect Job That You Will Love
Develop your Career Strategy
Get Your Personal Brand Positioning Right
Get Noticed With Great Marketing
Get Ready For The Dream Interview (offline or online)
Sell Yourself Like a Pro